VEHICLE COMPONENTS
CRUISEMASTER COIL SUSPENSION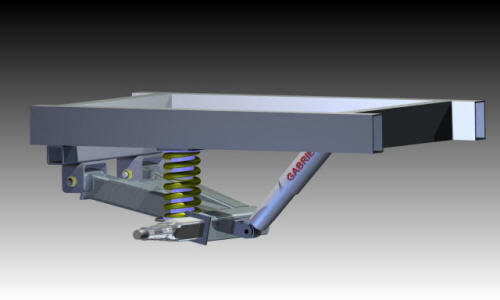 Vehicle Components have just released a new coil independent suspension, the CRUISEMASTER COIL, especially designed for camper trailers. This new product adds to their already successful list of suspensions for trailers, camper trailers & caravans.
The independent coil design incorporates a special twin rate spring system. Initially the coil provides the springing, then as the coil takes up the load a specially designed polyurethane spring guide comes into play. More than just a bump stop this design registered feature provides a secondary higher spring rate for greater control at high loads.
The CRUISEMASTER COIL comes in three axle ratings & shares common parts with other CRUISEMASTER products. The lightweight coil model has a load range of 900 to 1500kg, while the medium weight is rated at 1100 to 1900kg. The heavyweight axle model has a load range of 1300 to 2200kg.
Follow the link will take you to a 3 minute video of the CRUISEMASTER COIL system in action at Land Cruiser Park. http://vehiclecomponents.com.au/Videos/bestbitswmv.wmv

Thanks to Ian Simpson from Exodus Campers for allowing me to take photos of the Cruisemaster suspension

photos & info by Rob
August 2007