The DSD or Drifta Storage Drawers are for anyone who has a swing tailgate type kitchen. It's difficult to store gear behind this sometimes, so these draws can be pushed up the front, then pulled out, and if needed can be set up freestanding on it's own legs, which makes a great extra working bench, with 4 drawers inside.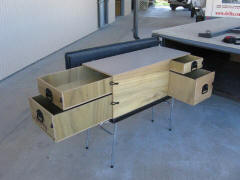 drifta pull out with return
The DPOR or Drifta Pull Out with Return kitchen is the new package deal Drifta are doing. It's a full length DSB or Drifta Storage Box which can be pulled right out and set on the fold down legs. It also has a matching laminate large 1200 x 600 adjustable leg table, the only one of it's kind in Australia. Because the kitchen is only around 6' long, but most trailers are 7', the remaining space is made up a small storage box that can be used for food or whatever.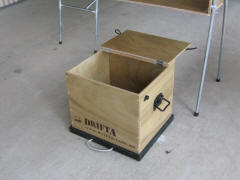 lined