egg yolk campers
slide on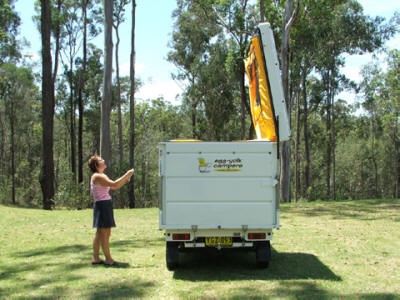 New slide on manufacturer, Egg Yolk Campers located in Grafton on the NSW far north coast are producing a folded aluminium camper module to fit length ways on very small utes like the Suzuki Carry & is also suitable for small table top trailers.
The unit can be turned sideways to fit most one ton utes with a maximum tray width of 1850mm & larger trailers. When placed cross ways there is reasonable storage space also available for bikes, tools, fishing gear, fridges, freezers etc.
The Egg Yolk Campers design allows for a quick setup time by releasing the lid which then flips over to from a full sized double bed on the lid.
The camper can be removed from utes or trailers in several minutes using wind up legs. It only takes a similar time to replace the camper back on the ute's tray. Best thing is the camper only weighs 300kg. It can also be used in a free standing position.
Light loads like small tinnies or canoes can be carried on the roof racks of the camper. The interior has numerous storage compartments and power outlets, however it is left reasonably basic to allow purchasers to fit whatever they require.
The Egg Yolk Camper is $15,000 for the basic camper, set up to fit a Suzuki Carry. This price includes 2 burner gas stove, 1.25 litre gas bottle, 12 volt battery and charger, standard double bed foam mattress, floor carpet, insulation, 12 and 240 volt power outlets, 240 volt power inlet, interior and exterior lighting, storage shelving, clothes hanging area and roof racks.
Some modifications maybe required to fit other utes. A table top trailer, shown here in the photos is $1,500. Other extras such as awnings etc could be organised on request.
For further information please contact Doug & Lorraine at http://www.eggyolkcampers.com.au/


photos & info by Doug & Lorraine
write up by Rob
June 2007