THE PERFECT COBB ROAST DINNER
by Margaret Durante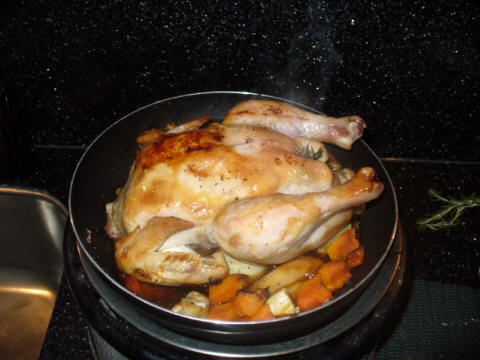 WHAT YOU NEED
1. Cobb Oven
2. A baking dish? Now this is the interesting part After using the Cobb to roast as they suggest we found that the food was too dry so we purchased a small non stick wok from Woolworths supermarket, 28cm across the top with a flat base of 18 cm & cut off the handle. It fitted perfectly on top of the heat bead basket, using 6 to 8 beads. The meat and veggies need to be turned regularly to prevent burning.
3. I use a chicken roll to roast as there are no bones to have to dispose and more meat for the $ you can use whatever meat you choose. I cut the veggies into pieces smaller than I would for the traditional oven and roast it as I would at home using butter, herbs or whatever to flavour the dish.
4. A chicken Roll and roast veggies usually take about 1 hr to cook and brown nicely, turn the meat and veggies regularly to prevent burning.
5. After I take out the meat and veggies I wrap them in foil to keep warm, make the gravy in the meat juices. While I am serving up the dinner I place the grill back onto the Cobb and place home bake dinner rolls onto the grill and replace the lid these will be cooked by the time you serve up.
So I have now cooked a traditional moist roast dinner with gravy and hot bread rolls in one oven.
Remember to keep the Cobb out of cold breezy areas as this will reduce the heat in the oven & only use branded Heat Beads.
enjoy your Cobb Oven

Thanks to Margaret for this article
june 2008