new from poly campers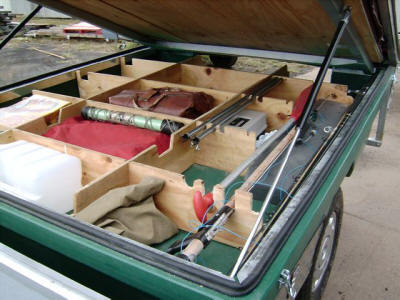 Poly Campers & Trailers in Bundaberg produce a polyethylene one piece rota-moulded trailer tub with matching lid. Doors & hatches are then easily cut into the tub.
Owner Glen Hudson has been working on a new design of camper trailer with an "ultimate storage" system, creating some interesting features in the form of a two tier storage system.
The upper most storage area is accessed from under the lift up bed on both side & rear opening model campers, as well as soft & hard floor units. This area is divided into 15 separate compartments 180mm deep.
In addition to this there are six poly trays 400mm x 600mm x 250mm deep under the bed which is below the top storage area accessed from the rear tailgate.
There is also a poly toolbox 1800 x 600 x 500 deep for the storage of lighter & larger gear.
The other innovation is a framed floor which can be expanded to form a larger floor area than the original trailer top. The framed floor is covered in a heavy vinyl to form the flip lid top cover. The floor is flexible and adjusts to suit the terrain, no need for pegs!!
For more information on Poly Campers & Trailers & the design of the new storage system please contact Glen in Bundaberg on (H) 07-4159 6558 (W) 07-41527 999 (M) 0407 177 517 or polycampers@bigpond.com
Additional information can be found on the http://www.polycampers.com.au website.
thanks to Glen for the information

writeup by Rob
July 2007