betty and trevor's
1995 campomatic converter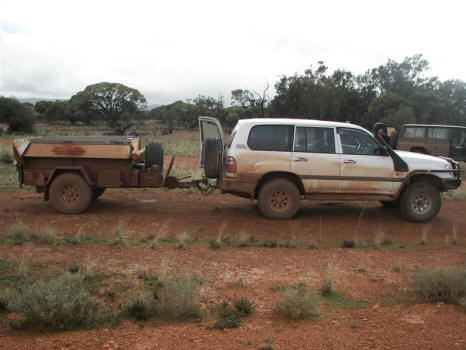 Gawler Ranges
Like most campers we started off with tenting many years ago. After having tented our way up Cape York twice and spending a very wet two weeks in Tassie, we decided it was time to look for a camper trailer.
A lot of our friends have soft floor campers and seemed to spend forever setting up and packing up, so we confined our search to hard floor models only. We didn't have the $25,000 plus to buy a new one, so kept an eye out for a secondhand model in good condition. We found this old style off road Campomatic Converter and paid only $6,000 for it including the annex and all the walls.
Being a 7 x 4 foot deep sided box trailer with a bolt on top to hold the queen size bed and canvas means there is plenty of storage for the annex and walls, porta loo, chainsaw, tool bag, tables and chairs etc inside the trailer which is able to be locked up if necessary. It also has a 90 litre plastic water tank protected from stones damage by a sheet metal surround. There is only a hand pump.
It didn't have a kitchen when we bought it, so Trev set about building a pull out swing around kitchen with a 3 burner Companion stove and storage area for plates etc. It also has a separate large pull out storage drawer to hold the camp ovens, billies and pots as well as food boxes and a general storage box, all made from powder coated steel and sheet metal. It works very well and has stood up to all the rough off road tracks we have travelled.
We added electric brakes when we first bought it and up graded the slipper springs to heavy duty off road eye to eye when we fitted the five stud Landcruiser hubs. It runs on Dick Cepek 285/75/16 Fun Country off road tyres on Cruiser rims which gives us three spares when going outback. All the mods have been done by Trev, of which the springs being the biggest job as we had to take the top of the trailer and turn the camper over to do it. The same will happen when we extend the draw bar by 600mm next year ready for our Kimberley's trip in July 2013.
We carry a Christie battery charger, fuel for the charger and chainsaw on the draw bar. The battery charger means we can stay out in the bush for as long as we have food and grog. We tend to avoid caravan parks as much as possible because we prefer the seclusion of the bush, having a Twyne shower under the bonnet of the 100 series and three Engel fridges in place of the back seat which makes us pretty self sufficient. Most of our travelling companions are set up the same way for long distance outback touring too. We try to get away on at least a couple of two week trips a year, as well as weekends with the 4WD club.
It has faithfully followed us to such places as Carnarvon Gorge, Victorian High Country, Murray Sunset National Park, Innamincka, Cameron Corner, Arkaroola & Flinders Rangers, Alice Springs and the Oodnadatta Track, and the Torrens Track in SA to name just a few places. In all these trips we have only had one broken slip spring near Yunta which was replaced with the spare we always carry. We have never had a leak in heavy rain and it has stood up to gale force winds on many occasions.
We can set it up in less than two minutes with out the annex and about ten minutes maximum with it. We can also pack the whole thing up in about four minutes. Fitting a winch to help with the lifting has made life easier as we are not getting any younger.
Thanks to Betty & Trevor for this article.
december 2011