They say mad Dogs and Englishmen go out in the Midday Sun; well Queenslanders go camping in the rain. The weekend at Bigriggen was interrupted frequently with showers, which cooled things off anyhow. As it turned out most were there by Friday afternoon (how do these people get all this time off from work I asked). We arrived in convoy with three other campers (Ken and Sandra, Paul and Mandy and Rex and Ann) only to find six campsites already filled. It was great to see old faces there (Wim and Judy, Paul and Wendy, Alan and Cathy, Robyn and Lindsay - who set up camp on the high ground again), Gus with the boys – Poor Jill had to work and Rick and Carol) and welcome new members (Keith and Jennifer, Merv and Colleen, Hugh and Jane and Col and Paula, Warwick and Chris, Alex and Jill).
All were settled in by about 6pm and then down to the serious business of socialising. This was done with much gusto and by 9pm all were good friends. The first night (which always seems to be full on, no matter where) ended about 11pm with Robyn and Lindsay making their now famous Camp Oven cake. I have to say this effort was probably the best I have tasted and luckily there was only a few stayers left which made more cake to go around.
Next morning a few stragglers arrived (Turtle and Helena with M/law Teresa, John and Penny (Where was the new Pajero with 200km on the clock,-forgot there was a dirt road of 1.5k to get to the camp ground, can't get it dirty can we?). Morning Tea was had at the appointed time where introductions were made, cake and coffee were taken and plans were made. It was decided that it was going to be a relaxing weekend with no plans made except to get around and say G'day to everyone. It was planned to have a communal dinner Saturday night but the rain put a stop to that and eventually most ended up around the fire at some stage.
On Sunday morning (after 4am Mass which very few attended I'm told) once again it was just a lazy day interrupted by showers. Most started heading home after lunch with a couple of Layabouts (Alan and Rex) staying on for a much needed rest.
I had a very relaxing weekend as I'm sure most did. Thanks for the turn up as I thought the weather report would keep most away but we ended up with 18 campers and a day tripper (Rod and Rachel)
Things that stood out in my small memory bank:
* Robyn and Lindsay's midnight cakes
* The whereabouts of John/ Penny's new Pajero (hearsay at this stage)
* John's now famous straw hat
* My spare key presentation
* Rex/ Ann's solar front yard
* The amount of Solar panels on display
* The changing of solar panels with the changing of the sun's direction
* The poor turn up at Warwick's basket weaving course. I think the "Bring your own straw and $20 entrance fee might have put a few off"
* Robyn handing out her Cake at midnight to complete strangers.
* Gus getting lost on the way from the showers to the fire but using the full moon the find his way home.
* Wondering what day of the weekend Rachel would have her new baby – three weeks we were told. We all wish her and Rod well.
* Ken breaking into my Trailer at 11.30 Sat. night to see what was in my drinks Fridge and then giving it a good nudge..
* The number that were about to head off into looooong trips around Aus. We wish them all a safe journey.
Some of these "facts" might have a slippery grip on the truth but it proves that the pen is mightier than the sword and it helps to have the last say.
Happy camping everyone.
Rob & Dianne
..... Rachael Luhrs was expecting - well she had a boy last night 24th February 2010.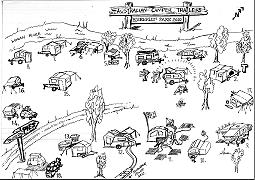 this is how you remember everyone in camp when you attend your first CamperTrailers weekend