Black Cockatoo weekend
near Naracoorte South Australia
held over the Easter long weekend from Friday 2nd to Monday 5th April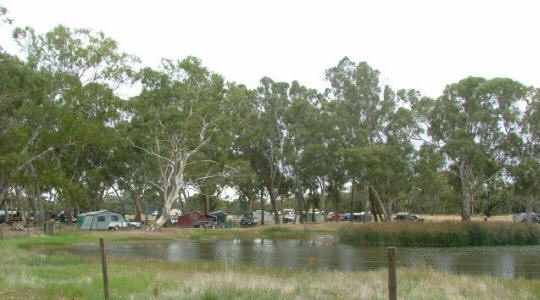 Black Cockatoo Bush Camp is located at Albert Park, approx 13km NE of Naracoorte in South Australia's South East. It has a huge camping area and being just 10km from the Victorian border it is an ideal spot for combined SA/Vic meets.
Since our Easter get together here last year, owners Liz and Ken Yelland have been busy further developing the property. As the popularity of the camp increases, more land has been opened up to campers and another amenities block is under construction to cater for the anticipated increase of visitors.
Other improvements currently being undertaken are back-packer style accommodation and (solar) powered camp sites. Cooked meals are also now available.
Because of a change in water allocation to the property some time ago, the yabby dams were no longer being used and this is where the most notable change from last year can be seen. Ken has put his earthmoving skills to use and formed a 4WD course incorporating the dams and surrounds. Drivers of all calibre can negotiate a number of off-road scenarios, beginners are catered for, there are rocks and logs to traverse, and imposing climbs and deep mud holes for the more daring. A good days fun if you're into it.
Having anticipated that BC may have been busier this year I took an extra day off work and headed up on Wednesday morning. There were a few campers already there but the area we had last year was still vacant so I planted the group flag to stake our claim.
Paul Mac and David & Lena arrived during the afternoon, positioning their camper trailers to make most of the water view. The four of us relaxed by a small fire as darkness fell.
A blanket of mist greeted us Thursday morning, signalling a fine day ahead – a touch a déjà-vu from last year. Dave and Rosie arrived early and promptly set up camp in "Bernies spot". Apparently it's the best place for a solar panel.
As the day wore on our numbers grew and by mid afternoon we already had over half the group in camp. The Ultimate convoy had arrived that morning having spent the last couple of days touring the Little Desert. They took some time deciding where to set camp and in the end headed for the cleared area up on the hill.
4pm signalled Happy Hour and Ken came down to push a huge tree stump into the prepared fire pit. Cooking in there would have required a step ladder to retrieve the camp ovens so another pit was commandeered for dinner duties.
The evening was a social affair, catching up with old friends and making newcomers welcome.
Friday dawned as another fine day and we saw the rest of our members arrive at camp. Some chose to setup nearer the communal fire, others took flight and headed for the safety of higher ground. Rick & Cindy deployed on the East side of the lagoon and had the place to themselves,
Show & Tell was conducted under torchlight (thanks Rick for the "possum stunner" searchlight) however due to low participation numbers there was no winner - just as well as there were no prizes! With over 50 members (5 of them named David) gathered around the fire, a great evening ensued. Rick discovered his horn was a dud but Wayne's freshly cooked yabbies later on made up for it.
Saturday started nicely weather wise but those searching sun for their solar panels were left wanting with grey clouds threatening as the day wore on – luckily though, we had no rain. A few campers shot into town in search of correct attire for the forthcoming evening (Trev has never been so busy). We had a surprise after lunch when a familiar trailer (but unfamiliar tow vehicle) pulled into camp. Who should alight but Alan, Kylie and Kate fresh from their coastal adventures ready to join the party.
Saturday evening rolled around ever so quickly and one still had to dress for dinner! Tables arrived left right and centre, smartly dressed gentlemen and elegantly attired ladies crowded the dining area. With meals served, it was an all tie affair for the boys and bunny ears for the girls (or vice-versa) – notable mentions were Dr Dave for his printed Google map tie and Annie's gum leaf ears (cos someone forgot to mention the dress code, didn't they Paul?).
Space around the fire was again at a premium but most were warmed by the antics of the party animals. The faint jangling of fishing bells could be heard from afar.
Sunday dawned but the Easter bunnies were very quiet this year. After breakfast the camp was almost deserted with many heading off to tour the wineries, look at the caves or explore some 4WD tracks. Because there were so few members around, the planned Walkabout just didn't happen. I'm sure those who wanted to check out others camper trailers did so though.
Congrats to Dr Dave for going where the bigger 4WDs went without having to be rescued once. A note to another Dave (he knows which one) – The Little Desert rang, they would like their mud back please.
The gathering around the fire was a little smaller this evening with some opting to have early night (must be getting old). As the night progressed it was mentioned that someone had brought their Didgeridoo to camp. After a little coaxing it was produced and contrary to popular belief I have to say that you can teach old boots new tricks.
The sound of the didgeridoo was noticed up on the hill - Missy (the terrier) started howling and Ryan came to see what was happening. Rick conjured up a tambourine from goodness knows where and proceeded to get his bush band up and running. Luckily we have some members who are not so shy, and so, along with a make-shift orchestra, Ryan and Em treated us to a great rendition of "How much is that doggy in the window".
Wayne treated us to some pole (or was that shovel) dancing. What a fun night.
The weekend drew to a close for many on Monday, with almost half our number heading for home. Whilst none of our group could be coaxed into having a go at the 4WD course, there had been a few runners during the weekend, and today we were privileged to see a demo of how not to drive the track. I don't own a 4WD but I'm guessing you shouldn't treat your LandCruiser like a stadium racer (particularly if it's your only means of getting home!).
Being a warm day our youngest members were invited to cool down in one of the ponds. What started out to be a quick dip soon turned into a full on mud bath – people pay good money for a treatment like that, although they probably don't get shot with a fire hose to get cleaned up.
A quiet evening around the campfire wound down another great meet.
We had some excellent weather over the weekend but the greedy ones (me included) who stayed the extra day were treated to a windy night and then rain and more rain on Tuesday – did I mention déjà-vu?
In number terms this was the largest group gathering we've had in the Southern states with 14 trailers from Victoria, 8 from SA, and Fiona & kids coming all the way from Scotland! A total of 58 people (and 4 dogs) attended.
A big thank you everyone who came and made it fantastic meet. This was our second Easter at Black Cockatoo as a group and I'm sure it won't be our last.
- Bruce (ya had to be there!).
attendees
| | | |
| --- | --- | --- |
| NAME | CAMPER | VEHICLE |
| Dirk, Joy, Trent & Chelsea the Maltese | Holspeed Mk 2.51 | EF Falcon |
| Maurie and Di | Dingo | Jackaroo |
| Paul & Leanne | Ultimate | Nissan Navara |
| Rick & Cindy | Camp/O/Matic | AU Ford |
| Kym & Shortie the Chihuahua | Cub Kamparoo | X-Trail |
| Paul, Annie and Zuri the German Shepherd | Pioneer Onyx | Pajero |
| Jeannie, Doug and Liam | Ultimate | Mazda Bravo |
| Fiona, Ryan and Lauren | Tent | Ford Focus |
| Jill and Gary | Ultimate | Prado |
| David & Lena | Cub Spacematic | Subaru Forester |
| Dave & Rosie | CampRanger | Pajero |
| Robert & Jenny | Dingo | Nissan Navara |
| Bernie & Shirley | Adventure Pilbara | Nissan Maverick |
| Peter & Deirdre | Challenge | Prado |
| Dave & Caroline | Camel | X Trail |
| Lindsay & Sandra | Sunwagon | Patrol |
| Dr Dave | CUB Supamatic LX | Subaru Forester |
| David, Jayne, Serena, Ryan & Missy the terrier | TruBlue Hawk | Pajero |
| Karen, Dale, Em, Nick & Jez | Dingo | Commodore |
| Laurel and John | T Van | Toyota 100 |
| Wayne, Tania, Braeden & Jordan | ACT | 4 Runner |
| Bill, Annette, Matt, Jarrod & Zak | Ultimate | 6.5lt Chev Patrol |
| Alan, Kylie & Kate | Tambo | D-Max |
photos
Photos by, Dave, Dirk, Jill and David
| | | | |
| --- | --- | --- | --- |
| | | | |
| | | | |
| | | | |
| | | | |
| | | | |
| | | | |
more photos
from Dave http://s221.photobucket.com/albums/dd116/Smokeydk1/BlackCockatoo0410/
from Rick http://s37.photobucket.com/albums/e60/ricncindscampomatic/blackcockatoo%202010/
Dave Bulman http://www.flickr.com/photos/plantago2/sets/72157623888287084/detail/