se qld
bluff creek weekend
Saturday 7th to Sunday 8th October, 2017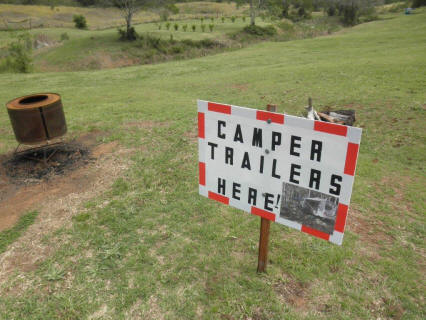 Another good camp with 13 vans in all. Some came Thursday and some left Monday
A mixture of tent, camper, pop top & full vans. There were the regulars, some we have not seen for a while & one newbie, who, entertained us with his bag pipe, I feel, if he had not run out of puff, he would have played on ??
Matt took control of the fire, as he does !! & with plenty of wood, everyone enjoyed, getting together to catch up. I (Gregory J, the host) made up a sign, so that all knew where to set up; as the camp site was huge, although this did not stop "some-one", from being close !!
Although Matt can start a fire, he failed to cut the wood, his axe was new & the head was loose !!! So Ian took on the task.. the head on the block splitter, was lighter than his, which was at home...so, the "bearded" Ian took up the challenge. With persistence & great effort, the log was split, which allowed Matt to burn & all to enjoy
A few went into Kenilworth, for a drive & a visit to the cheese factory. The bakery had a "doughnut" for $20 & if you could eat it at the bakery, you got your $20 back !! no one had a go ??
Everyone was happy with the camp site & especially the amenities, which were kept clean, 24/7. I know there are those, that will be returning to Bluff Creek, Kenilworth
Gregory & Angela
photos