brett & diana's
TBox V2 Market Direct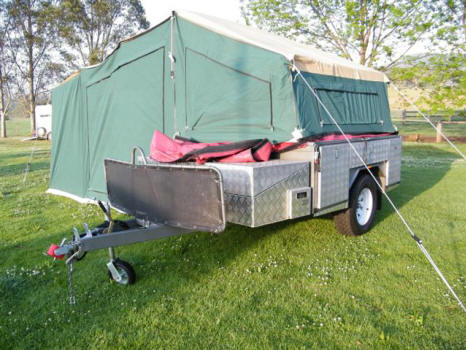 We previously owned a light off road 1996 Jumbuck Camper Trailer and decided it was time to upgrade and purchase a new one within our budget. We looked at a few and decided on the TBox V2 from Market Direct. The storage and the 12 volt system that we never had on the old camper is a bonus.
The tent area is 18x15 foot, lots of windows and has good access to the trailer when the tent is up. It has two 12 volt sockets at the rear of the trailer near the kitchen area for the LED strip lights to plug into and a 12 volt shower. The 12 volt system can either be charge via an Anderson plug when travelling or via 240 volt when stationary.
We are looking forward to taking it away on a few weekend trips before our main holidays next year to North Qld.

specifications
Trailer Size: 7ft x 5ft with high sides
Suspension: seven leaf suspension - greasable eye to eye military rebound springs with shocks
GVM: 1500 kg
ATM: 880 kg
Drawbar: extended two metre with 50x100x4mm RHS A-frame with continuation to spring hangers
Axle: 50mm square heavy duty
Chassis: 50x50 RHS full chassis reinforced
Brakes: 4WD 10 inch electric brakes plus additional hand brake included
Wheels and Tyres: two brand new 235/75 R15 tyres on six stud Landcruiser Sunraysia rims
Hitch: off road polyblock hitch
Lights: LED
Structure: press folded body and fully welded
Finish: charcoal hammertone powdercoated
Jockey Wheel: swing-up and lockable
Jerry Can Holders: two
Gas bottle holders: two
Tailgate: fully sealed swing out tailgate with locks and kitchenette with stainless sink
Stabiliser legs: two quick lockup and wind down drop-down stabiliser bars
thanks to Brett and Diana for sharing his thoughts with us
november 2011