Burralow Creek
NSW members meet at Kurrijong Heights
held on the weekend of Saturday 24th to Sunday 25th March 2007

It was another successful NSW members meet held at Burralow Creek Camping Ground in the Blue Mountains National Park not far from Kurrijong Heights west of Sydney with members coming from as far as Canberra to attend.
The weather went from 33 degrees on the Saturday to very cool after the change came through late Saturday night. Katoomba was just 5 degrees on the Monday morning.
Everyone had arrived in camp by the Saturday morning. It was great to catch up with old CamperTrailers friends as well as meeting those after typing to them via the group online. Formalities were quickly done & all enjoyed a chat & get to know Saturday morning under the shade. Our host Neil took a few back up the hill to inspect an old WW2 radar installation, while Rob, Jason with daughter Jes did a short mountain bike ride up the other side of the valley. Remind me not to bring that bike again Jas.
After tea on Saturday night Neil did a GPS workshop which was well received till the change came through at 10.30 & sent everyone running for cover & bed. He showed the various features of each unit everyone had plus the mapping he had on his laptop. Thanks for that Neil.
The walk up the creek to the waterfall was worth a look with plenty of fungi along the way to keep it interesting as well as a few leeches. The kookaburras were not a nuisance this time. Last time we were there the kookaburras were swooping on the table at happy hour & taking food from the table.
Thanks also to everyone who bought firewood along. We had enough to have a fire each night. Much appreciated.
Attendees.....
Kevin with Aussie Swag

Richard & Leonie & another Aussie Swag

Alan & Brenda with grandkids Anthony & Kayla with their Customeline

Mick & Lyn with their Track Tvan

Jason & Sue with daughters Jessica & Seridan with their Ace Camper

Hosts Neil & Tania, Jon-Luc, Taylor & Lauren with their 3Dog Camper

Keith with his Kimberley Kamper (no Jennys allowed in the national park)

Jeff & Barb with their Track Tvan

Mike & Christine with yet another Track Tvan

Rob & Carol with their Track Eagle

Barry & Margaret with their Ultimate
It was also great to see Ian & Brenda with daughters Robyn & Jamie as well as Grant who dropped in for the day on the Saturday.
The last of us regretfully wandered out of the camping area on Monday morning. Thanks to everyone for another top weekend camping with members of the CamperTrailers Group.
Rob & Carol
| | | | |
| --- | --- | --- | --- |
| photos by Rob >>>>> | | | |
| Kevin's Aussie Swag | Richard & Leonie's Aussie Swag | Alan & Brenda's Customline | Mick & Lyn's Track Tvan |
| | | | |
| Jason & Sue's Ace | Neil & Tania's 3 Dogs | Keith's Kimberley Kamper | Jeff & Barb's Track Tvan |
| | | | |
| Mike & Christine's Track Tvan | Rob & Carol's Track Eagle | Barry & Margaret's Ultimate | Waterfall on Burralow Creek |
| photos by Jeff >>>>> | | | |
| Christine & Mike | Christine having a good time | around the campfire | around the campfire |
| | | | |
| Smokey the Rob | the campfire | Rob with friends around the campfire in a rain shower | kookaburras |
| photos by Alan >>>>> | | | |
| morning campsite | Kayla, Sheridan, Anthony & Lauren | Kayla, Taylor, Sheridan & Lauren | |
BOTTLE DUMPERS CAUGHT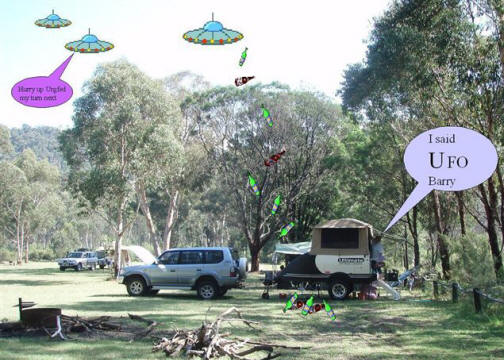 For those who have attended the members weekend meets & camped with Barry & Margie aka Granny Short Legs have been aware of the bottle dumper saga. Each morning they have camped with the group they wake to find empty bottles of all kinds thrown under their camper.
Many theories have been thrown around many a late night fire with no real plausible explanation found. At a few camps members had signed a surveillance roster for an all night vigil to find who was responsible with no result. Trip wires rigged to cameras had even been used. They even went to the expense of buying a guard dog which was voted as the handiest item around camp 2006
Above you will find a photo captured by Mike Sargeant which explains who or what the actual cause has been all this time....... bottle dumping aliens.
Rob
MIKE'S KNOB WARMER
OR A POMS POM POM

I am writing this to refute rumours that Margaret (of Granny Short Legs fame) spent a significant amount of the weekend obsessed with a certain one of my parts.
My request was for a 'warning' device that I could put on my gear lever to remind me not to drive off while my Anderson plug extension lead was still connecting the car and the trailer. When she was not busy tying knots in balls of wool, the knit wit spent the day needling me and this creation.
Pinking is not normally associated with diesel engines but Margaret managed to achieve this with what was colloquially referred to as my knob warmer. I especially like the Pom pom pom. Get your requests ready for Copeton especially if you want a particular colour or personal fitting!
Mike Sargeant

<<<<< back to past events page