camo camper
robert & wendy's diy camper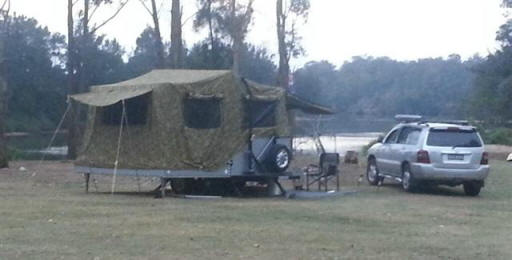 My wife and I had a Marlin Camper with an Oztrail tent. It was a good unit, but we are getting older & did not want to climb into bed any more using a ladder, plus the setup time was too long with umpteen pegs, flooring & a fly tarp to cover the whole unit. It was time to put my idea into fruition. The design had to incorporate these items that were important to my wife and me.

wife's needs
1/ No climbing up steps to get into bed
2/ Making of the bed to be easier instead of climbing up and tucking the bed in and have it made up so when we setup we can climb straight into bed
3/ Being able to walk down the sides and bottom of bed
4/ Both floors at the same level
5/ A kitchen that she did not have to bend over for cooking and washing up
6/ Being able to fit esky/fridge close to kitchen bench

my needs
1/ Width of camper 2 metres as this is the width of our 2905 Toyota Kluger
From mirror to mirror so if the Kluger went through a space so would the camper
2/ Height would be 1.7 metres high so that it was the same height as Kluger for wind resistance
3/ Length no longer than 4 metres so to fit into our back yard behind the fence
4/ Not a long setup time (winch assisted)
5/ Electric brakes (even though it is not that heavy)
6/ Good leaf springs
7/ Not to high off the ground
8/ Rear tailgate to open (to load the gear into)
9/ LED tail lights
10/ Front box to be setup so wind defects off (still needs to be done had to wait till canvas work and struts fitted)
11/ Good head height for walking inside not to feel closed in
The camper build has taken us about 12 months from our design to camping & was built by our son in law Michael Smith at Moonta Mines in South Australia. The name started out as 'The Oyster' but then I noticed a company has named one of their models an Oyster, so we decided to rename it 'The Camo Camper'.

the outcome
* Overall length from tow ball to rear of camper is 3.9 metres
* Overall width from side to side 2 metres
* Overall height when closed 1.7 metres
* Box section for living 2 x 2.8 metres, then in the open position it is 4 x 2.8 with a tent height centre of 2.2 metres & an edge height 1.8 metres
* Front box section not finished but design worked out
* Bed setup
* Hard door to get in and out of camper - no noisy zippers at night
* Rear tailgate
* Bench height for wife 900 high x 600mm deep
* 9 leaf springs
* 75x50x4mm chassis rails from front to rear frame rails
* We have fold down chairs and table to make it feel larger and they can be used outside
* Esky/ fridge position good place

A special thank you to go to....

Michael Smith for building the camper, being able to understand my drawings, phone & emails to each other. He did a fantastic job even with the 1400 kilometres between us.

My wife Wendy for putting up with me over the time of the design & the build and the problems along the way.

Michael's wife Shelley and their daughters Tarnya, Nickala & Chloe for the time that their dad was in the shed & on the phone to complete the work.

Michael's mate Grant, for the help he gave with the final touches so we could tow it home.

Roy for the canvas work.

Luke Szkoruda from Lukeys 4x4 custom of Llandillo for the setup of the struts www.lukeys4x4.com

Graig Gates from Strut Re-Gas Penrith for supplying and gassing the struts www.strutregassa.com.au

Anybody else that I have bent their ear over talking about the build.


thanks to Robert and Wendy Matthews
november 2013