se qld
Canungra weekend
Saturday 26th to Monday 28th January, 2019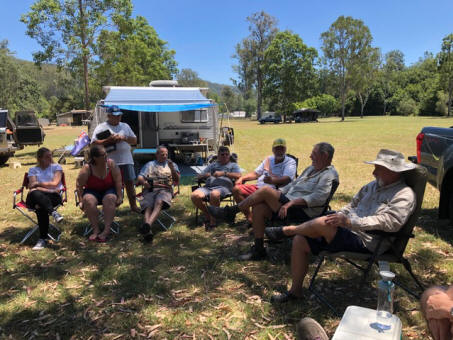 We welcomed 14 camper trailers including new campers Geoff and Jo to our annual Australia Day weekend camp. Generally the hot weather encouraged many people to sit in the shade around camp and catch up with old friends, or chill in the creek's water hole. It was also a good opportunity to hear about member's future travel plans and share track knowledge.
Saturday the Scout grounds clean up got underway with an early start to beat the heat. The whipper snippers, chain saws and mower cut back and tamed the overgrowth and tidied the grounds in preparation for the new scouting year. Each year we can see more cleared space (and fewer ant nests) than the previous year. We thank everyone for their help and for giving their time and effort to benefit the Scouts.
On Sunday we were visited by some of our regular members whose health currently prevented them from camping this year. It was great to see them drop in and it will be even better when they are fit enough to camp with the group again.
The mood around the campfire was full of banter and good-humoured ribbing - as always. Thanks to everyone who came to this camp and for your friendly company.
p.s. By popular request we plan to re-book this camp again next year.
photos