se qld
Canungra weekend
Saturday 25th to Monday 27th January, 2020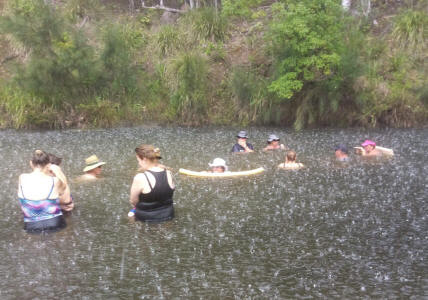 Queensland's annual Australia Day camp at Canungra Scout Ground was well attended with 17 campers, supplemented with visits from numerous friends and relatives over the weekend. As organisers we had some concerns about the camp this year. A lack of rain had left the creek as merely a collection of murky waterholes and the grounds very dry. Fortunately the rain we had been expecting arrived before the camp date, changing the grounds to a lush green and the creek clear and flowing.

The weekend weather started out hot and humid until Saturday morning's grounds working bee had been in progress for an hour or so and then the rain called off further work for the day. Thank you to all the workers who mowed, whipper snipped, trimmed and sawed their way around the Den and grounds in readiness for 2020's Scouts.

During the weekend the well-known historic Canungra Hotel served up meals for some but most campers were happy to stay in camp and catch up with each other's news and travel stories - both genuine and embellished.

The weather was hot with intermittent rainfall. It seems that despite Matt's non-attendance just having his name listed on the attendance register is sufficient to bring large rainfall to any camp :)

This venue has been a popular first camp for the year since 2015. The trend looks set to continue, by popular request for 2021 so if you missed out this year then mark it in your calendar for next year.

Thanks to everyone for your company. We look forward to more camps with you all.

p.s. By popular request we plan to re-book this camp again next year.