introductions

Greetings all. This is the first of what I hope to be many publications of our adventures around this vast, beautiful
country called Australia.

But first, an introduction. We are a young family of four, two adults and two children who are just starting to explore our
country now the children are at an age (6 & 9) where they can put up with the boredom of long car trips.


how we got started

We have just taken ownership of a brand new camper trailer and with this being its first long distance trip, I wanted to iron out any problems before we went on longer excursions. We had been tent camping up until now and we decided that if we wanted to camp for longer than a couple of nights, we needed something bigger to pack more gear in and something more comfortable to live in during longer stays.

Carnarvon Gorge has been a place I have always wanted to visit and is an easy 1˝ days drive from Caboolture, where we live in Queensland. Camping at the gorge proper is restricted to Autumn, Winter and Spring school holidays, so I decided to plan a trip for the Spring schools holidays as this appeared to be the most favourable time of the year weather wise to visit the gorge.
how we got there
After many months of planning and preparation, the much anticipated day of departure came. On a fine October morning we set out on our journey. We followed the D'Aguilar highway to Yarraman where we made a comfort stop, then on to Dalby where we stopped for Lunch. From there we made for Roma which was where we would stop for the night. The flatness of the country between Dalby and Roma was a stark contrast to the hilly drive up the Great Dividing Range from Caboolture to Dalby. The biggest surprise was the extent to which the land had been open up for agriculture. After a couple of fuel stops, we arrive at Roma mid afternoon and made camp at the Roma Big Rig Tourist Park where we had a pleasant night.

Early next morning we packed up and set off for the half day drive to Carnarvon Gorge making a fuel stop at Injune along the way. After a dusty drive we arrives at the Carnarvon Gorge camp ground around midday, set up camp and had lunch. That afternoon we visited the ranger's office and obtained a park brochure and map and then went for a short walk along Carnarvon Creek to a swimming hole and let the two boys play on the cool rocky creek bed to cool off for the rest of the day. That night we made plans for a hike into the gorge to visit the multitude of natural attractions listed in the park brochure.


exploring the gorge

The next day saw us up early. We dressed, breakfasted, packed a light lunch and headed off along the main walking track to explore the wonders of the gorge. Carnarvon Creek began to carve the gorge 27 million years ago through what was once a vast sea bed capped with a layer of basalt. The main walking track crosses the creek 22 times as it winds it way into the gorge.

The first side track we came to lead to the Moss Garden where, in a narrow channel, water seeping from the porous sandstone walls creates a lush environment for moss and ferns to flourish in. The next side track lead to a natural feature called the Amphitheatre, a steep sided rocky chamber gouged out of the sandstone by fast flowing water.

The third side track lead up a steep climb to a place called Ward's Canyon where rare king ferns flourish in a tiny pocket of remnant rainforest. The last stop we came to was the Art Gallery, where 10,000 year old aboriginal cave paintings grace the wall of a natural overhang. From there we returned back to camp completing the 14km round trip.


the journey home

After second pleasant night at the Carnarvon Gorge Camp Ground, we packed up and headed off home the same way we had come, stopping overnight at Dalby and homeward via Kingaroy.

We all agreed that the Carnarvon Gorge trip was excellent and we hope to have many more excellent adventures.
by Paul Fazey


February 2008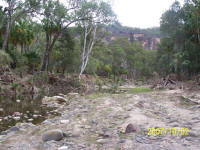 Carnarvon Gorge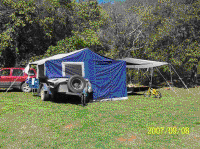 our Castaway Camper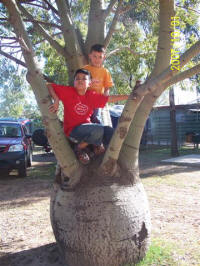 Roma Big Rig Tourist Park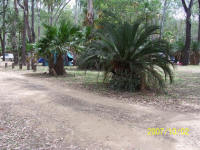 Carnarvon Gorge Camp Ground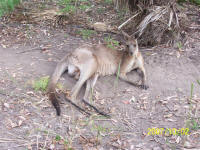 happy wildlife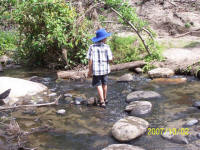 Carnarvon Creek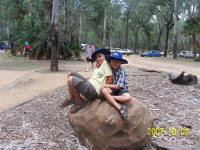 kids fun