chris & christine's
johnnos light off road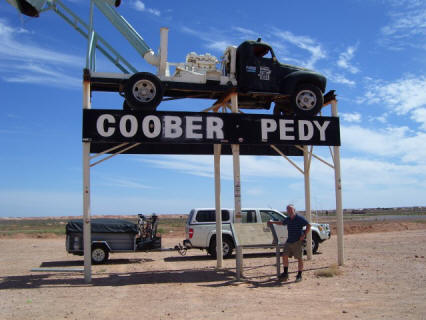 We bought our Johnnos Light Off Road Camper new in 2010 and have done about 20,000 kilometres around the country side with it since. While it is not the full off road version, we have taken it on some pretty rough dirt and sealed roads and nothing has fallen off. I think the unloaded weight is around 850 kgs, so it is pretty easy to tow and I love that it doesnít slow us down noticeably. We also have a 16 foot pop top caravan and even though it is not big, you certainly notice that it is there.
Our Johnnos has a rear swing out kitchen with four burner stove, sink and plumbed in gas, a deep cycle battery and power outlets, slide out front drawer, lift up top which is great for loading and unloading and electric brakes. Most new trailers would probably have all this stuff these days, but at the time the salesman made a big deal about these features on the deluxe model. We recently got a wall kit which encloses the awning and this makes a great difference, giving good protection in not so nice weather while cooking or just waiting out the rain.
The only trouble we have had was a broken axle spring near Armidale a few years ago on our way to Townsville. Thanks to the NRMA and a very helpful off road trailer manufacturer in Armidale, we were back on the road the next day with some new very heavy duty springs attached. That episode dampened our enthusiasm for the trailer for a while, but we really havenít had any dramas since, so we put it down to either a faulty spring or the long term result of a very bad bump we hit the year before which may have cracked the spring, and then ongoing use finished off the job.
The other disaster was on the Oodnadatta track when one of many rocks we kicked up bounced off the trailer and took out the back window of our canopy. By the time we got to the end of the dirt, the back was full of red dirt, rocks and broken glass, and some of it is still there. Will cover the window with foam or cardboard next time. I am also looking at fitting some rubber flaps to the front of the trailer to slow the rocks down for our next trip out that way. Still working on that one.

Like many campers, we usually find the bad weather, but so far it hasnít leaked or had anything go missing in the wind even through a couple of horrible wind storms, wondering when it was going to lift off.

We find it interesting to look at all the different combinations that are getting about. They must all have their advantages and limitations, so I guess it comes down to what is important for each person. We are still pretty happy with it, even after nearly five years.

Chris and Christine

may 2015