We have been camper trailering in retirement for about four years. We recently started thinking about whether we would be able to sustain this method of travelling for another 10 years, and if so, whether we might move up into an off road 'pop top' caravan. Paradoxically, the next step was to go back one step, and ask, what are the options to caravanning/camper trailering and how do the costs compare? It's an interesting exercise - those who are committed camper trailers or caravanners may reject it out of hand – and the figures are surprising. For us it is interesting to reflect that we took three years to choose a camper trailer, but not once did we sit down and do an exercise such as this one.
The dollar figures indicate that over 10 years, we would be some $186,000 better off if we didn't own a 4WD and a camper trailer. For us, as self-funded retirees in our sixties, that has to be accepted as a significant amount of money. We are not about to rush into or out of anything though. We have attached our 'figures' and happily accept that they may be challenged. So why would you commit to that sort of money when arguably reasonable options are more cost effective in the long run?
For us, so far, camper trailering has been a means of getting to the more remote areas of the wide brown land, in our own time, and in our own direction. At a time when the divide between the city and the bush seems to be increasing, when even the suburban backyard is not only decreasing in size but is under threat from water restrictions, camper trailering is a means of connection to the bush and our Country. We believe that we can experience an emotional connection to the landscape of our country even if it does shred our tyres and challenge our knowledge of things electrical and mechanical. More than a motel, and more than a packaged holiday, camper trailering gives us time and space, it gives us a relaxed social scene everytime we stop, and it is a legitimate hobby. It can stir emotions, it provides a lifestyle, and it expands our knowledge and experience.
And at the end of the day though - do we have to be rational about it?
TABLE 1: COMPARATIVE COSTS "TO CAMPER TRAILER OR NOT TO CAMPER TRAILER"
The aim of this exercise to compare the costs of using the camper trailer or caravan for the next 10 years with the cost of undertaking packaged or self-guided tours.
Assumptions:
On average 10 weeks (2 x long trips) per year of camper trailer trips, and 10 weeks (1 x 4 week, 2 x 3 week) of packaged or self-guided travelling.

Packaged – self-guided tours would be as passengers, or in hire or own vehicle.

Costs are done on today's prices and on our current camper trailer which is a Tvan
Detail
Estimated Cost ($): Camper
Estimated Cost($):
No Camper
1-year
5-year
10-year
1-year
5-year
10-year

Fuel (1500 @ 15litres/100km @ $1.40/litre)

3,150
15,750
31,500

Accomm (70 nights @ $35/night - covers CP fees, occasional motel)

2,450
12,250
24,500
Food (70 days @ $30/day)
2,100
10,500
21,000
Extras (entrance fees, souvenirs, gifts, 'splurges')
2,500
12,500
25,000
Cost of maintaining Hilux (10 weeks @ $200 pw – based on NRMA figures)
2,000(11,100)
10,000(55,500)
20,000(111,000)
Cost of maintaining Tvan (10 weeks @ $50pw – regn, insurance, depreciation)
500(2,600)
2,500(13,000)
5,000(26,000)
Replace Hilux (within the 5-10 year period)
45,000
Replace Tvan (within the 5-10 year period)
30,000
1 x 4-week package outback tour (2 people @ $7000 pp) (poss assoc airfares 2 persons @ $750 pp)
15,500
77,500
155,000
2 x 3-week self-guided tours
(Vehicle Hire 21 days @ $80/day)
(Accomm 21 days@ $80/day)
(Meals 21 days @ $100/day)
(Extras $2500)
(poss assoc airfares 2 people @ $750pp)
10,960
54,800
109,600
TOTAL
12,700
(23,900)
86,500
(142,500)
202,000
(314,000)
26,460
132,300
26,4600
TOTAL (Less savings from not owning Hilux + camper)
12,760
63,800
127,600
TABLE 2: HOLIDAY COST COMPARISONS
COSTS ($)
VEHICLE OPERATING COSTS pa ($)
1-year
5-year
10-year
4WD + Camper
(10 weeks of travelling, using vehicle operating costs for 10 weeks)
12,700
86,500
202,000
13,700
4 WD + Camper
(10 weeks of travelling, using annual cost of operating both vehicles)
23,900
142,500
314,000
13,700
Package / Self-guided tours
(incl the savings from not operating a 4WD and camper)
12,760
63,800
127,600
nil
Notes on Tables 1 and 2
Cost estimates are based on our style of travelling to date – those who bush camp only will have lesser costs for accommodation In Table 1 full-year costs for maintaining Hilux and Tvan for the full 12 months of a year are shown in brackets, arguably these are the real costs. Arguably also, the towing vehicle may be replaced twice within a 10-year period.

The cold hard figures highlight the real costs of basing recreation on a 4WD + camper.

"It's not the cost, stupid" - we all know that, but while it is very difficult to quantify the added value of the camping lifestyle, the costs are significant. E.g. over 10 years for our now mid 60s and self-funded retirement, we would save an estimated $186,400 ($314,000 - $127,600). That would buy a few more 4WD experience holidays along the lines of Outback Bush Adventures (www.outbackbush.com.au), Outback Spirit (www.outbackspirit.net.au), Northern Highland Travel (www.nht.com.au), or APT (www.kimberleywilderness.com.au)
TABLE 3: ADVANTAGES / DISADVANTAGES
"TO CAMPER TRAILER OR NOT TO CAMPER TRAILER"
Camper Trailer
Package / Self-guided Travel
Advantages

Disadvantages

Depreciation / running costs of towing vehicle and camper
Increasing physical demands / comfort issues with age

Driving pressures / occasional driving boredom

Vulnerable to bad weather
Into the future – amenities

Retrace steps at beginning and end of each trip

Vulnerable to breakdown

Perceived need to ensure that camper is used every year
Notes:
This is from the perspective of a couple in their mid 60s living in Canberra, currently with a 2000 Hilux 3.0TD and 2004 Tvan.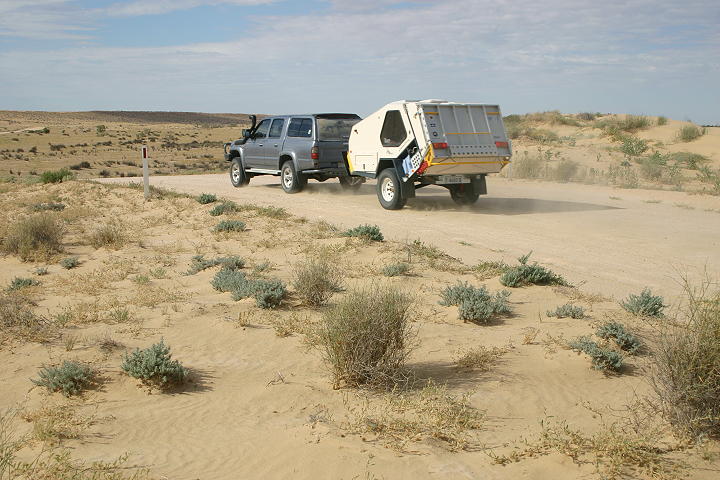 Birdsville Track