The weekend get together of CamperTrailers at Coolendel took place on the weekend of 28-29 November 2009. Coolendel is approx. 30 km west of Nowra in hook on the Shoalhaven River . Arriving around 11 am Friday morning, we had plenty of time to set up. Shortly after, the first campers rolled in, with the remaining campers hot on their heels. A few quick setups and Friday Arvo Happy Hour was under way at Al & Mandy's site. (1 hour,35mins oops)
Happy Hour rolled into dinner followed by our camp fire. Plenty of beer , bulls#@t and laughter. A total fire ban was ordered for Saturday, midnight to midnight, so out came the fire hose at 12 o'clock.
Saturday morning brought us the remaining campers and the heat. We had managed to secure an area where we could all spread out but still be together. Plenty of room for the kids to ride their bikes. Very nice.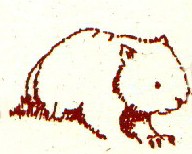 Saturday's heat hit us early, so Coolendel's 20-20 cricket test called for early drinks. 40 plus degrees and a hot wind... insane. The river was the go, cool & refreshing, but just a little too far from the Engel. Relaxing in the rapids made it all worthwhile.
Saturday afternoon saw a few members head up to the works shed to check out the new
14 KW solar setup. Provided there is sunshine, Coolendel stands on its own for power. Thanks to Jeff and Pam, Coolendel's caretakers for organising the tour.
A special guest appearance was made by Gary Roberson, albeit fleeting, but an appearance all the same, leaving the campsite atwitter with curiosity. In and out quicker than a dose of the salts.
The extreme heat brought on an early and extended Happy Hour (or three....oops again), this time, in the large covered camp kitchen. We got to know new members, Jeff & Debbie Foster. Lovely people. (that's gotta be worth a beer). Also a couple of visitors, Eric & sons and Bill & Debbie.
The wild life made an appearance in the afternoon keeping the kids amused. Peacocks, wombats, wallabies with littluns in tow. A few of the camper trailers received a chassis scrub courtesy of the wombats. Bandicoot chip bandits were sprung raiding supplies.
Dinner and a Virtual campfire (Ian's traffic cone), and the chatter of happy campers floating though the bush. Terry managed to keep the conversation going (a bit shy, that fella). Ian & Brenda added some illumination to the evening (see photo's below). A good evening was had by all.
The fire ban was lifted for Sunday, so a fire was lit and Ziploc Omelettes were the order of the day for breakfast. Sensational. An easy Sunday morning was followed by baseball for the kids, organised by our sports co-ordinator Norm (I just can't sit still) Eves. All too soon the time came to pack up for those leaving. A few chose to stay on till Monday, leaving the rest of us envious.
Hosting the weekend was effortless. Everybody was primed for a good time and the rest just happened. Everybody thanked us for hosting, but it is us who should be thanking all who attended for creating a great weekend.
Many Thanks,
Al, Mandy & Davis


attendees

David & Joy Wilkinson + Luke, Emma and Brooke (depslibrary)
Alan & Amanda Haworth + Davis and Will (alamandavis)
Ian &Brenda Hamilton (flamelily123)
Jeff and Debbie Foster (foster.foster21)
Kevin Davis (troopytraveller)
Terry Hammerton & Helga Schiffer (teza45)
Norm & Christine Eves + Chole, Mitch and Jake (norm.eves)
Allan and Mary Anne Randahl (meeandthemouse)
Phil and Sandra Reid (philreid43)
Ken & Marie Root + Cameron (marie141148)
Kara & Rob Delatorre + Sean, Jarrod (karse03)
Bill and Debbie
Eric and sons, Lachlan and Reilly