Cranky Rock Nature Reserve
NSW/SE Qld members meet Warialda NSW
held on the ANZAC long weekend from Friday 25th until Sunday 27th April 2008
We arrived at Cranky Rock on the Thursday afternoon. Already present were Rex & Ann, Tony & Sharon, Sharon & Richard (Patrick, Rhiaan & Jack) and Gus & Jill.
Arriving latter that day were Roger & Sue, Suzanne & John and Stephen & James. John & Machelle stopped in the say high with the intention of retuning on Sunday.
That evening gave signs of what we could expect for Anzac day. The day started overcast and drizzling and stayed that way most of the only clearing for a camp fire session that night.
Light rain fell during the night clearing to a fine Saturday after an early mist.
Tony and Sharon left early Saturday followed by Susan & John leaving after lunch.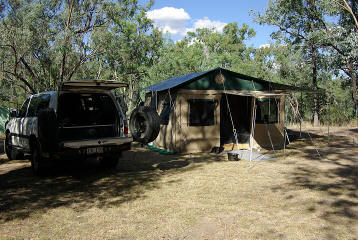 Wim & Judy's camp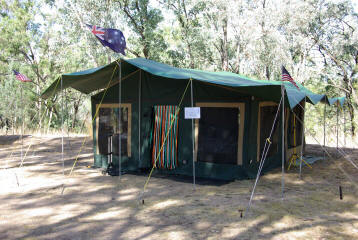 Rex & Ann's camp
During the day a number of high level informal meetings broke out to discuss the finer points of camper trailer setup. I understand that a number of long standing trade secrets were divulged.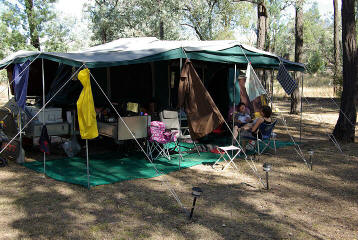 The photographer interrupted lunch at the Wheatley camp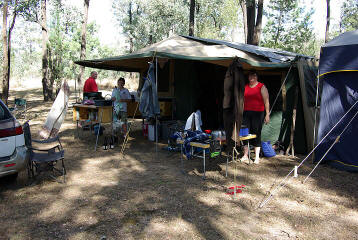 Jill with lunch well underway for the Skinner family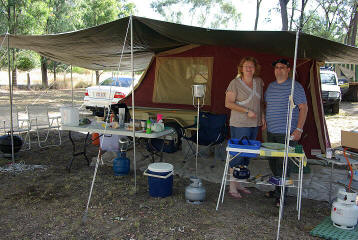 Lunch being prepared for the Peacock family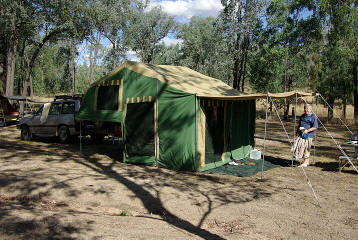 Stephen tidies up, for fear that the wife might think he runs an untidy camp
Strangely enough, nobody seemed keen on using the open air cold shower. A number of showering options were on display over the weekend.
The weekend came to a quiet conclusion as the time for each member to break camp and return home.
Write up by Wim.