custom pole carrier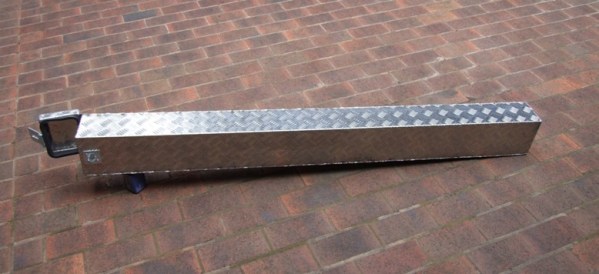 The pole carrier is constructed from 0.7mm aluminium and measures 1800mm long by 180mm high by 140mm wide. It is fitted with a hinged lid at one end with a latch lock and has a rubber seal around the lid closure to prevent dust and water entering.

I have then placed a piece of foam rubber inside the lid and at the bottom end of the carrier. The foam rubber is 50mm thick and the same size as the carrier (180 x 140) and has been placed at both ends to help minimise any damage that might occur due to movement of the poles whilst travelling.

I then used metal shelving braces to attached to the ribs of the camper floor and fasten the pole carrier to the trailer using steel self drilling screws (8g x 12mm zinc gold plated button wafer head). The pole carrier is firmly attached to the camper trailer.

The pole carrier was manufactured by MW Sheet Metal Pty Ltd at a cost of $350. This company appeared to be the most reasonably priced and is located in Sydney, Newcastle, Adelaide, Perth, Melbourne and Brisbane. I had quotes from a couple of other manufacturers who quoted between $650 and $800 for the box. The company specialises in the manufacture of metal tool boxes.
thanks to Paul McDougall for sharing this idea
january 2009