July in Central-western Queensland
by Bruce & Annie Bates
Left home on the Friday afternoon (picking Annie up from work in Kingaroy) for an overnight stop in Dalby. Woke to 0 deg and said "hope we can have a camp fire tonight in Mitchell".
Arrived in Mitchell just after lunch to a line booking into the caravan park to be told "this one is booked out, go down to the show grounds" ……….had a look there and decided to go out to the free camp out at the weir, about 3 ks out of town.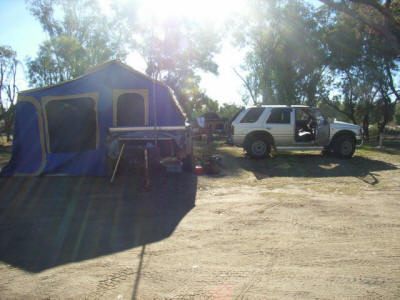 We had camped on the other side, a little further out of town, Fishermen's Rest, last Easter, so I should have gone there first up……. anyway, had a beaut fire and met some nice people.
Next day, nice and sunny and cold, had a bit of trouble packing the camper (too much gear, have now made the top a little bigger) finally got away and headed to Blackall, had to get set up before the V8 Supercars started so I could watch it on my new telly (was bought in case the V8s were on when we are away hahaha) and what a good result………(I am a member of the Craig Lowndes fan club).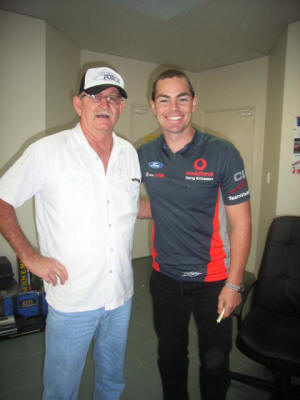 Monday morning woke up to rain, had not put up the awning and in the spot we were, could not do that, so made a command decision to pack and head to Isisford.
Most of the bitumen roads off the main highway are very narrow, first vehicle we encounted wanted all the bitumen so we did a bit of slipping and sliding, the next two vehicles were towing caravans so I gave them all the road, nearly to my demise (I had not locked the hubs in so did not have 4WD). We came across a small aeroplane parked off to the side of the road, it must have landed on the road, so I decided to do a U turn and go back to take some photos. So this made me put the hubs in as when I went right off the bitumen that was it for moment, into 4WD and away we went. The plane was parked as they were mustering and also using a chopper.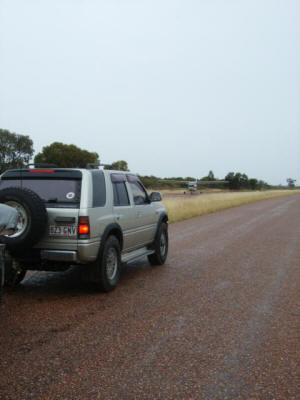 Arriving in Isisford I thought I would drive down to the river bank to see if we could camp there, what was I thinking, very wet black soil (brain must have been in the wrong gear) slipping and sliding again, tyres grown in size every second (black soil sticks like you know) now the Wizard (our 4WD we used on this trip has two open diffs, no LSD) got us out of it, I can only put it down to the Cooper ST tyres.
By now we have to change plans as all the dirt roads are closed. Off to Ilfracombe for lunch and then to Barcaldine where we set up the camper and stay for five days, the longest I've stopped in one place since we started back camping about five years ago, Annie is impressed.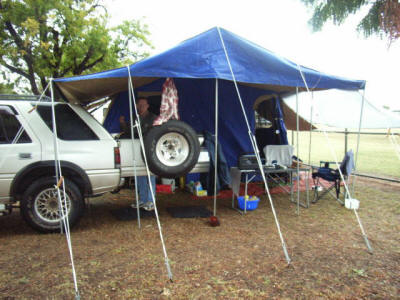 Monday night it stopped raining so Tuesday we decided to take a drive out to the Alice River Weir ( I must state here that I lived all my school years in Barcy (Barcaldine) where with my mates spent a lot of our free time as kids at the weir. The track was wet so I took Annie for a drive along the river bank for a few Ks, here is a couple of photos.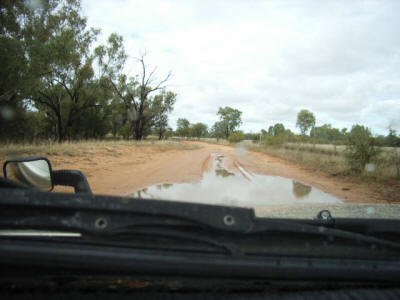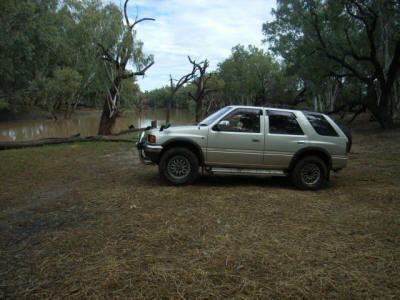 Wednesday we decide to take a drive up to Muttaburra, the rain had caused creek and rivers to flow, quite a difference to the dust bowl back home (Nanango 2.5 hours NW of Brisbane)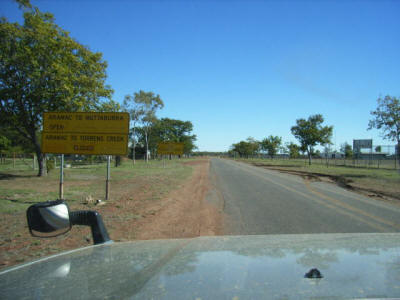 Road closed sign in Aramac.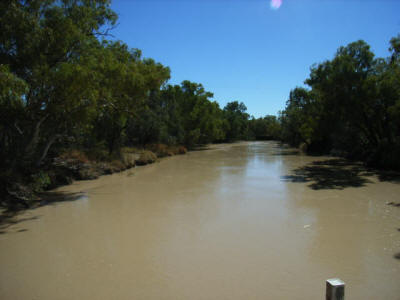 Thomson River which flows down to Longreach, this is just out of Muttaburra.
So for the next couple of days we caught up with old friends and checked out the old town and was great to see it looking so good, plenty of tourist around, caravan parks nearly all full.
I am sure that these small towns benefit from it all. I think it was in May that the Motorhome fraternity had their big get together there for the second time in five years, I was told there was something like 1300 motorhomes there more than the number of people who live in Barcy.
We caught up with one of my old mates who took us on a guided tour of the power station.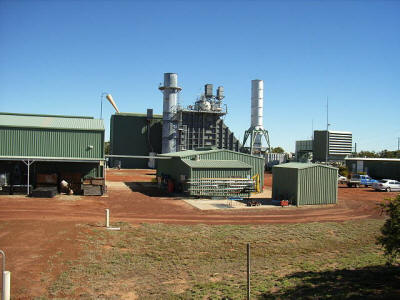 Its gas fired and only runs about nine hours per day and the power just goes into the grid.
Saturday we head off to the east, for our next night stop at the Willows (sapphire mining town) We moved on the next day, and en route not far from Rolleston we came across some drovers .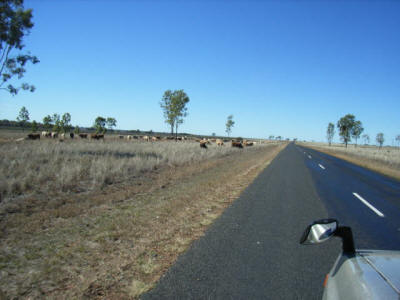 We pulled up at a place called Warremba farm stay which probably has the best camp kitchen we have seen. Also if you travel with your pet and want to do a day visit to Carnavon Gorge they can look after your pet, for a price of course.
The next day we went into Injune and refueled before setting off to Taroom, this route of 121 Ks is mostly dirt and was a little wet after some rain.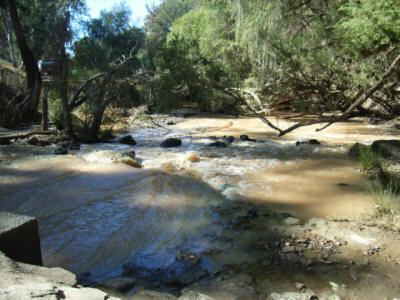 From Taroom we headed north to check out a place called Glebe Weir on the Dawson river, not a bad place and at $5 a night for a powered site we will return.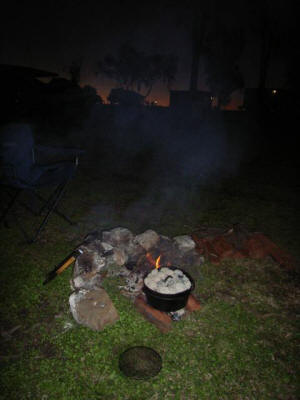 Our last campoven meal for this trip.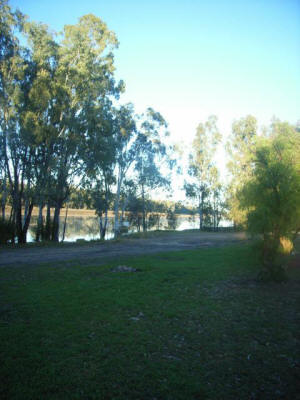 Glebe Weir camping grounds.
We had a couple of days here and then had to head home. We thought we could take a short cut home so we turned east just south of Taroom and headed off, GPS hooked up to the lap top, yep we thought we were on a road/ track to get us home, some 40Ks into it the road kept getting narrower and then a gate, not a good look so turned around and arrived home via the long route Miles and Chinchilla.
Ok so that it for another holiday, next Copeton.