dale & bernadette's
Exodus Kingston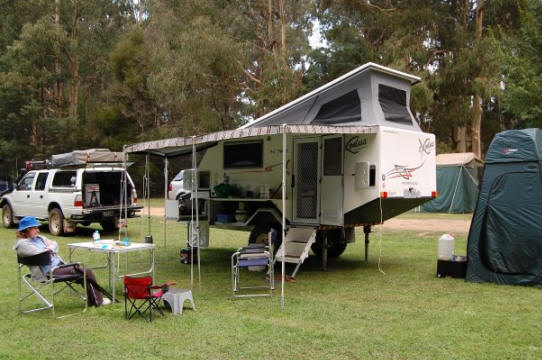 I've been camping for as long as I can remember, having grown up in QLD. My family had a succession of tents, camper's like the Camp/o/matic, Sunwagon and homemade varieties. We also had a boat so trips to Moreton and Stradbroke islands were common.
Bernadette and I started camping together in tents in the late 80's and this proved successful for us until a trip to the Red Centre in 1996 when we noticed her balance was not so good anymore. About 18 months later and after many tests she was diagnosed with MS. This necessitated a radical change in the way we looked at travelling. To this end we started looking at camper trailers. Our first purchase was a 1993 Aussie Swag J15 off-road camper and this served our needs until Bernadette's declining mobility made it hard for her to climb up into the bed.
We started going to shows again with a purpose, rather than just to look, with the criteria being for a relatively light weight, lots of storage, good off-road ability, inbuilt kitchen, water, batteries, solar power, and above all easy access in and out of the camper and a bed Bernadette could sit down on, rather than climb up into. We also now had a young son Nicholas and he needed his own bed with the option of a fourth bed being desirable. We live outside the camper so didn't really care much for internal dinette's or lounges etc.
We eventually came across Ian Simpson from Exodus Campers, who spent some time demonstrating a new camper he was building to us. We really liked it, and it suited our needs. Given the price bracket we were moving into though, we had a a lot of thinking to do, and a lot of saving. We kept looking at the market and what was available for about two years, during which time Exodus's model lineup changed and the camper we wanted was not being made anymore.
We spoke to Ian again in late 2007 and whilst he said he could still make one for us, it was this great can-do attitude that sold us on Exodus, he was thinking of building something new and also considerably bigger!!! Various phone calls and emails were exchanged, idea's and suggestions going back and forth, and we placed an order sight unseen.
In February 2008 we travelled from Melbourne to the Albury caravan show where Ian was displaying the newly completed prototype and were finally able to see the camper in the flesh. In May 2008 we took delivery of our Exodus Kingston build number 1.
Ian even generously offered to assist us with picking it up by meeting me in Tarcutta, halfway between his factory in Wallsend near Newcastle and our home in Melbourne.
Our camper is fitted out as follows
Outside :
Heavy duty fully galvanised chassis with a fibre composite body

Vehicle Components Independent coil spring suspension

Vehicle Components AT35 hitch (they now use the new DO25)

Cooper ST tyres

10 inch electric brakes

two 65 litre separate water systems

two jerry can holders

External slide out kitchen, we have a Dometic marine metho stove in ours

Huge front storage bin

Canvas annexe roof

64 watt Unisolar panel roof mounted with solar regulator and an Anderson connector for a second panel to plug in to

Xantrex Truecharge battery charger

Screened windows and door

Gas bottle mount

Lighting

Merit power sockets
Inside:
four berths comprising of a double bed and bunk setup (with the top bunk being easily removable making a three berth or day lounge arrangement)

Two huge underbed storage drawers and side of bed storage area

Internal kitchen (single burner and sink/mixer, cupboards etc)

Hanging wardrobe (used for our coats)

Three deep cycle batteries installed across top of bed

Slide out coffee table (used by Nicholas for drawing on rainy days)

80 litre Waeco upright fridge/freezer

Lighting

Merit power sockets
Things that we would still like to do include fitting a hot water heater and external shower, an extra portable solar panel that can be pointed directly at the sun and to purchase the annexe walls.
Things we would change are few thankfully. We would have liked to have a porta potti cupboard and might modify an existing cupboard one day to accommodate this. This was an oversight on our part but doesn't really cause any problems as the porta potti currently travels in the back of the ute. New models do have one apparently. Also the benchtop on the inside kitchen is sealed with flowcoat. I would prefer laminate as it would clean up easier and be a bit more durable. There is nothing wrong with it currently, just more a concern regarding long term durability and appearance. Again, current models seem to have laminate.
I would also like to possibly change the incandescent lighting for LED, but will wait until the price of good quality units that produce a warm light are within our budget.
After having it for about twelve months now we are still extremely happy with it. It has been named 'The Tardis', after Doctor Who's time travel machine, as we are still amazed with what fits inside it. It is now our home away from home and will be for many years to come.


thanks to Dale for showing us around his camper trailer



august 2009