daniel & wendy's
diy camper trailer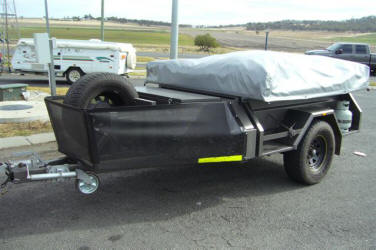 Like everyone else we have been campers for years, from a couple of swags, then to a tent, when we had our 'lil fella. We started doing a 3-4 week, once a year touring trip a few years go after we bought the Navara, so we hired a local built camper trailer for these trips and got hooked. We still used the tent for the numerous weekend trips during the year, made easier by the drawers/kitchen/storage setup I built into the tray of the ute.
Our camper trailer is the product of many years of research, drawings and "discussions" on what we needed. Unable to find anything on the market that we liked and suited our needs and most importantly our budget..... we decided on building it.
trailer features
* 2120L x 1200W x 500mmH (7 x 4 foot), folded sides for extra strength
* Duragal RHS chassis
* 2200mm drawbar (yes the drawbar is actually longer than the trailer body!)
* 50mm round axle
* parallel bearings
* 10 inch electric drum brakes (budget didn't allow for discs)
* 9 leaf (6mm leaves) off road rebound springs
* Hyland off road hitch
* 16 x 7 black sunraysia 6 stud rims with 265-70-16 A/T tires
* LED lights
* 1x jerry can holder, 2x gas bottle holders and provision for a boat fuel tank
* 4x heavy duty swing down stabilizing legs
* wrap around stoneguard (to allow access to toolbox, spare and outboard)
* custom designed toolbox incorporating pole carrier and battery
* 100 amp hour deep cycle AGM battery (to handle the rough roads). Battery box connects to trailer via Anderson plugs to allow it to be easily removed and charged in vehicle if camped camped for extended period of time
* Anderson plug connection
* 3x sealed 12volt power outlets
* outboard motor mount
* 75 litre poly watertank
* rear recovery point/bike carrier
* swing away jockey wheel
* kitchen on tailgate with fold out bench, pump tap and removable poly tub for sink
* removable boat racks, mounted underneath bed-base to allow access to trailer contents with boat on.
* 2x coats etch primer, 3x coats industrial hammertone charcoal & 2x coats clear
* 1500kg GVM

For the tent we settled on a local canvas place to do the job as we had used their tent on the hire trailer. Using it for last few years were really impressed with their design and workmanship & the price was reasonable too. They were very easy to work with and understood camping, 4x4ing and touring.
tent features
* 10ft (I think its actually a little over 11ft) free standing soft floor, side fold tent
* three 'bow' design, no adjustable poles, the main bow has spring loaded buttons that lock into place as you pull them out
* 15oz roof and 12oz walls, all Aussie canvas, the colours being our choice.
* 8ft zip on awning using the usual poles and ropes
* Zip on travel cover
the outcome
Being mainly tourers (except for weekend trips) we needed our trailer to be easy to set up and pack up. Set up time for the main tent is less than two minutes, but the awning takes about 5-10 minutes to erect so its mainly put up for two night plus stay or inclement weather. So far the tent has stood up to winds and storm that brought down trees, with only four pegs holding it to the ground & no ropes or poles!
Its been a ummmm........experience to say the least, but the outcome is a strong capable trailer that is extremely well mannered on road and laughs at the rough stuff even when heavily loaded. I do wish we were able to afford to get it hot dip galvanised as its already getting heavily stone chipped, even with the stoneguard and clear coats over the paint.
Well thank you for letting me rant about our creation, and hopefully might come across some of youse in our future travels
september 2010