diy camper for under $6,000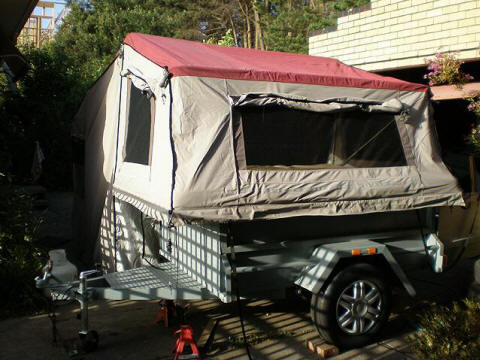 I purchased an Xtrail camper trailer top on Ebay sight unseen for $1,400 from WebSam Solutions. The owner Sam was very helpful. I have been to his premises a couple of times and found both he and his staff are very accommodating.
The Xtrail camper trailer top included
a travel cover to go over the top

a cover to accommodate an inner spring mattress

lockable latches for the side of the trailer

two gas struts to support when lifting the camper top and allow access to the trailer.
I fitted the camper top to my 6 x 4 heavy duty trailer by raising the height of the the sides and fitting a swing tailgate. The steel for this modification cost $85.

I then built a Drifta inspired slide out kitchen for $50, added four jerry can holders, two on the rear and two on the drawbar for under $100. Also on the drawbar is a battery box from Bunnings for $28.00, containing a 130 amp hour battery, 3 stage charger and solar regulator. There is also a mount for a 4.5 kg gas bottle on the drawbar, homemade for around $10 along with a set of 70-120 kg load levellers at $110.
For what I have paid for the overall unit I am more than happy with the quality. While it is not as heavy duty as some of the more expensive units, it is still comparable with many mid range units I have seen.

I bought it as an entry level camper trailer to find out if the family liked camping and to learn what we could improve or look for in a more expensive unit. As it has turned out, we will not need to upgrade for some time as everyone is happy with what we have.

The areas we have improved the standard camper trailer are as follows:
◊ We changed the King size 100mm high density foam to a Queen size memory foam mattress for $200. This allows for additional storage space beside and at the end of the mattress.

◊ Added the larger cover to accommodate the new mattress. This still allows plenty of storage space for tables, chairs, our daughters mattress, carpet, solar panels, ladder etc.

◊ Fastened the ends of the retractable poles in the main tent (in the soft floor area) into their holders with large pop rivets. This made it much easier to set up and pack up. One person can now do it if necessary.

◊ Added a spreader between the roof supports in the main tent.

◊ Heavier duty guy ropes and pegs for the annexe and tent end.

◊ Added the optional silver tarp that goes over the top of the whole unit when erected. Keeps it cool and eliminates the potential for leaks in heavy rain.

◊ We also put shade cloth under the soft floor to protect it, however this is probably wise with any soft floor. We also invested in some waterproof carpet for the tent area. It's much easier to keep clean and warm. Just hose it off when you get home.

◊ The awning on this style of camper trailer is permanently attached. On a recent trip I found for overnight stops you can just peg it out with a couple of poles. Although once you work out the tricks to putting it up it takes less than 10 minutes which is probably a better option should you get a big wind.

◊ Alternatively, I have since devised a way of keeping the awning folded across the main tent area by running "shock cord" through the eyelets on the outer edge of the awning and fastening this to the back side (facing the drawbar) of the tent.

◊ The sides to the awning are difficult to attach for one person. The sides attach with velcro and once you work out how to align them they work well. I find it saves a lot of weight if you leave them behind. Just build a bigger fire to keep warm.
| | |
| --- | --- |
| Basic camper trailer set up | $1923 |
| Rego & insurance | $ 180 |
| we have added the following items of our choice | |
| Coleman water heater, carry bag, spare cylinders, mains hose and gas fittings | $ 500 |
| Coleman shower tent: | $ 150 |
| Coleman 3 burner gas stove, gas bottle plus grill plate and oven | $ 380 |
| Porta Potti | $ 65 |
| Coleman fold up table and stools | $ 120 |
| Two Coleman chairs | $ 100 |
| Visitors stools | $ 20 |
| 3way Waeco fridge and gas bottle | $ 500 |
| 130 amp hour battery, charger, regulator, 40watt solar panel and 3 LED lights | $1500 |
| Four jerry cans and two hand pumps | $ 200 |
| total | around $5638 |
Where possible we buy most items at sales, such as Rays 25% off everything sale etc. For example the Coleman chairs which retail for around $100.00 each were purchased for $50.00 each.

thanks to Dave Pederick for sharing this idea
february 2009