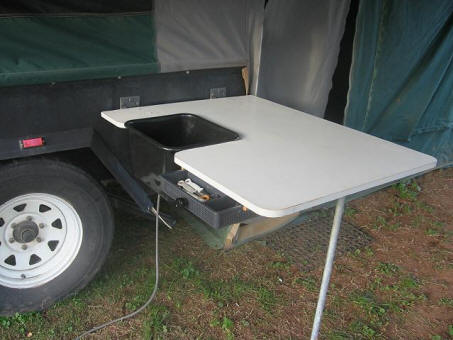 Here is our table that fits to the side of the camper. I canít take the credit for this idea as our original Dingo camper (yes, from the talkative man in Dandenong) had something similar fitted to it. When we sold the Dingo and purchased our Sturt the table was the item we missed the most. The table on the Dingo sat on a flat shelf and was held in place with a wing-nut. The Sturt has no such shelf so it was a case of adapting another system.
A couple of gate hinges, one half bolted to the camper, the other half bolted to the table solved that problem.
The table top has been cut from a sheet of melamine. I have cut a cavity to take the sink and used a curtain rail support to locate the leg which is just a cut-down adjustable tent pole. I glued a couple of timber strips to the bottom of the table then glued another slightly wider strip on top of those, this provided a lipped support for the plastic cutlery drawer. The table slips onto the hinges (I drop a spacer between the 2 hinges to stop the table sliding off), the leg is fitted, cutlery drawer fitted and the sink drops into place to provide a nice kitchen area

thanks to Des for sharing this idea.