diy battery charger
Graham & Yvonne in New Zealand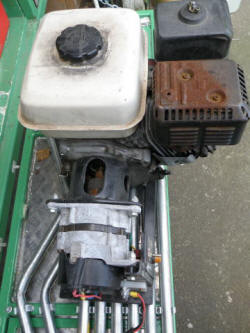 This is my portable battery charger built from a 5.5HP motor and a standard automotive alternator. The motor & alternator are joined together with a special built housing which has a flexible joint mounted on the two shafts.
The motor runs at about 2400rpm to produce 13.5volts continuously. You can run the charger with equipment hooked up to your battery with out adverse effects. Not as good as a portable generator but handy none the less. This was built without any special tools in my garage.


thanks to Graham for sharing this idea
june 2009