diy hot bush shower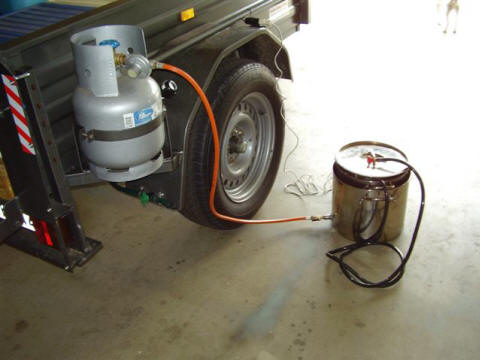 introduction
Here's a hot shower I made a few years ago. I used to have a Primus but I found it took too long to assemble and the operation of the unit was pathetic. With this unit all you have to do is connect the bottle to the burner, light it up and put water in the top bucket. 3-4 minutes later you have hot water, and then just place a shower pump in the water
introduction
$30 shower pump from a camping store - remove shower rose and attach rose from solar shower - doesn't use as much water.

15 litre S/S bucket with lid - $8 from the $2 shop.

20 litre S/S container - $10 from the $2 shop.

regulator and hose.

fittings as shown.

heater ring.
putting it together
The heater ring is made from a piece of 22mm tube bent around a 6inch jig, then cut and weld ends together. Drill a number of 3mm holes around the circle. Weld another piece of same size tube to one side and drill a 19mm hole through tube and into ring. Add a couple of 3mm brackets (one on end of heater ring inlet tube, the other directly opposite) and mount inside the 20 litre container, about 20mm from the bottom.

The 15 litre water container goes inside that (the handles stop it from sitting on the heater ring. The fitting is easily made and tap is optional; however, regulator at one end and a jet at the other are critical. The fitting is a piece of 19mm tube (sliding fit inside heater ring inlet tube), with a threaded nut to fit the hose welded in one end and 2 holes, around 10mm, drilled across tube to allow gas and air to mix. This is then screwed on the end of the hose and is a sliding fit inside the heater ring inlet pipe.
operation

In operation it takes around 30 seconds to assemble, 3-4 minutes to heat (long enough for a stubby), will operate in any weather (strong wind and rain) without extinguishing and will not set the surrounding bush alight. Shower hose fits inside top tub for storage. You can even use it for cooking your crabs.

thanks to Tony for sharing this idea
january 2009