diy
lightweight solar panels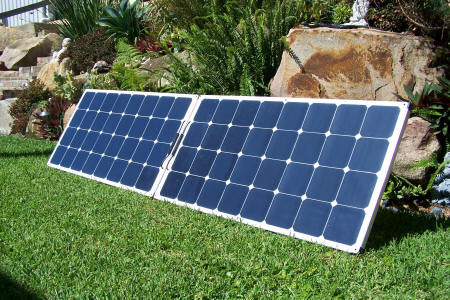 Due to a back injury Scruffy found lifting the two 80 watt folding solar panel kit in & out the rear of his BT50 ute a bit of a task & was on the lookout for a quality lightweight solar panel kit as an alternative that didn't cost the earth. Portable solar panels, rather than a fixed panel on the roof, are a better choice to maximise the solar input when camping, particularly in & around trees which often shade rooftop panels in state forests or national park camping areas.
Browsing the internet the newer flexible panels that are now on the market took his eye & it wasn't long until he found a pair of 100 watt flexible monocrystalline panels on Ebay for just under $400 that would suit his needs. The panels themselves weigh 2kg each & with an aluminium RHS frame & fittings come in at only 6.4kg.
We made two frames from 25x25 aluminium RHS to suit the dimensions of the solar panels & used corner connectors to make a lightweight frame to hold the panels & mount hinges etc. The wiring route was planned to run through the RHS with the necessary holes drilled before assembly.
All wiring was soldered, shrink wrapped & protected by small jiffy boxes. A 20 amp circuit breaker was installed to protect the solar panels in one of the jiffy boxes where the positive & negative solar output went to the Anderson connector.
Stainless steel hinges were used & pop riveted to make the two frames folding for a compact travel size between camps.
The solar panels were glued to the frame using Sikaflex to ensure a good bond in the extreme heat that would be encountered.
Legs were made from 50x3 aluminium flat & hinged to the frame. The bottom of the legs when folded flat are held in place with self adhesive magnets. Both frames are also held together by a magnet when closed.
Nylon straps with tent pegs through eyelets are used to hold the legs to the ground. A similar strap also holds the top of the panel ensuring the lightweight panel is not blown over by a strong gust of wind.
A solar regulator was placed next to the batteries in the camper trailer which has unregulated input from the two solar panels.
A quick test via the Watts Up Meter revealed the solar panel output was 11 amps.
secured to the ground

folded for travel

solar panel secured to the ground by straps & tent pegs

securing straps

wire connections in jiffy boxes

circuit breaker & anderson

support legs

support legs held by magnets

magnet for closed position

circuit diagram
solar panel specs

cell technology: monocrystalline silicon
number of cells: 32 high-efficiency sunpower cells in series
approx. dimensions: 1060 x 540 x 3 mm
approx. weight: 2 kg (5 lbs)
output connector cables: 90cm MC4
rated power output: 100 watt
optimum operating voltage Vmp: 18 volt
optimum operating current Imp: 5.56 amps
open circuit voltage Voc: 20.8V
short circuit current [Isc]: 5.95A
article by Rob
february 2015