Duoetto water heater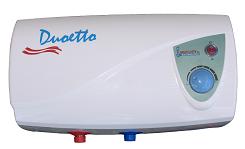 There are a lot of hot water systems available on the market these days. I would like to introduce you to one that hasnít been on the market for an extremely long time. Itís the Duoetto water heater.

This Australian made Duoetto water heater is dual 12volt and 240 volt unit with 10 litre storage capacity.

There has been some confusion about the Duoetto water heater in regard to the amount of amps it draws. Before we get into that, ask yourself one question..... How long do you have a shower for when camping? The 10 litre system works on 240 volts at 1000 watts with a current draw of 4.6 amps. On 12 volts the load is 300 watts with a current draw of 25 amps.

You can wire it into your ignition so when you drive it will heat up on the travel so that it doesnít work your battery super hard. When you get to your destination you will have instant hot water. When you are staying for long periods of time you can work the Dueotto off a toggle switch for showering. The unit needs a 12 volt pump or mains pressure.
The unit if wired correctly by gauging the distance in wiring will use around 22 amps per hour. Remembering this is only a 10 litre unit, and your heating in general is only enough for a shower for a couple of people. Which will take around 25 Ė 30 minutes in that time it will drag around 9 to 10 amps out of the battery.

If you were to have solar panels running on your camper/vehicle you would maintain that quite easily. For people who donít have solar installed and would want to use this Duoetto water heater all year round. You would think quite hard about getting solar installed to run this water heater. If you were a camper and always stopping at caravan parks then the idea would be to use it off 240 volt. Remembering that you can also use a generator. On the generator it will take around 15 minutes to get hot enough to have a shower.

When you have the 10 litre Duoetto water heater you would mix the hot water with cold water to have a shower making plenty of water to go round when youíre away your water supply is limited.

There is also a Optima water heater that has 5 litre capacity. It comes in either 12 or 240 volt. Its clever design and mini electrical 5 litre storage makes it ideal for the camper trailer shower. On 240 volts the unit draws 4.6 amps per hour and 1000 watts, on 12 volt it draws 15 amps & 150 watts.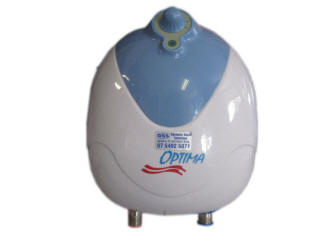 information supplied by Dynamic Solar Solutions

february 2009