E-Flite power meter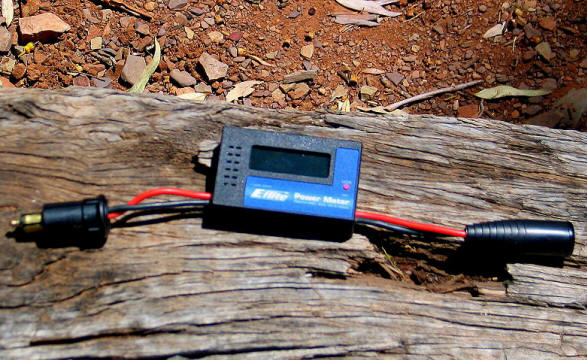 introduction

Following long and informative discussions during the Australian CamperTrailers national meet at Peak Hill with the two experts on all aspects of 12 volts - Jamie and Jeff - it made me conclude that, contrary to my naïve opinion, there is a lot more to this subject besides cranking and running a fridge!

Following some subsequent enquiries, other friends of mine directed my attention to the model aircraft groups and the E-Flite Power Meter modellers use.

The power meter I own has been invaluable in providing me with information such as appliance current draw and voltage drop under load. This later item means that I am now planning to rewire my "professionally installed" fridge connection – 11.6volts under load.

The meter is designed for DC in-line monitoring of Volts, Amps, Watts and Capacity based on the mode you select to display on the digital LCD screen. The power meter does not include connectors so you can customise the meter to fit like I have done in the above photo.
E-Flite capabilities
Current display range from 100mA to 120A

Voltage Display Range from 4Volts to 50Volts

Power Display up to 600watts

Current and Voltage resolution to two places of decimal

Capacity: Up to 9999mAh

thanks to Mike Fretwell for sharing this idea
january 2009