camper trailer
fiamma bike rack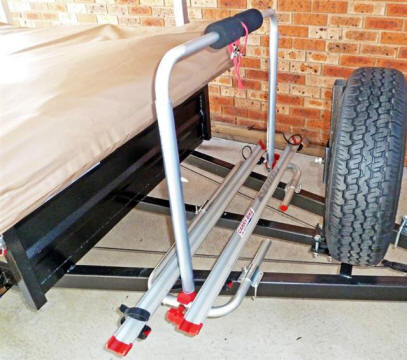 Fiamma Carry Bike Caravan XL A
The Fiamma Carry Bike Caravan XL A is designed to clamp onto the A-frame of any caravan or trailer and was the perfect solution for us to carry two bikes on our camper trailer. The wheels are strapped into channels with both the straps and channels being adjustable. The frames of the bikes are strapped to a generous, moveable rubber sleeve at a convenient point which will depend on the size and type of the bike. By loosening a couple of knobs the bike can be leaned forward or back and can be fixed in these positions if required. For security we will use our bike locks to fix the bikes to the trailer frame.
I found that I needed to experiment to find the best location for the rack and putting it closer to the spare tyre seems a better solution than risking the bikes getting in the way when erecting or dismantling the tent. Of course you can always take them off. I have put plastic tubing on the vertical parts of the rack to help protect the bikes.
This type of bike rack holds the bikes very securely and it is easy to check on them in the mirror. They do not move at all. It is easy to put bikes on and take them off. It may not suit all types of bikes or bikes that differ greatly in shape or size, but it is quite flexible in terms of adjustment.
The rack retails for around $220 at your local caravan parts/accessories supplier.
| | |
| --- | --- |
| | |
| bike carrier fitted to A-frame | seat posts strapped to bike carrier |
| | |
| bikes between tent & spare whee | wheel strapped to bike carrier channel |
thanks to Steve Sweet for sharing this idea
august 2012