I found out at 110k on a straight road is great, downhill even better, the slightest hill the Hilux dies a death. I was going back to 5th, 4th gear, this was a shock to me. But hey we were on holidays. Plus we made it to Caloundra.
Started to set up, the neighbours (grey nomads) came over for a chat. They said hey new camper, nice, looks like it is going to get wet. I thought to myself you have come prepared for the weather of sunny Qld. I purchased a 20ft x 30ft tarp from Lismore in our prepurchase holiday goodies for extra shelter from the sun (QLD sunny one day perfect the next). On setting up another grey nomad walked past and commented, saying it looked like the Taj Mahal. Night came quickly. A sleepless night.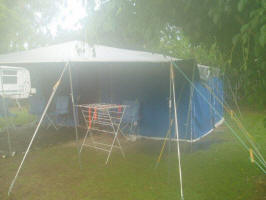 A picture says thousands words.
We now have a wading pool out the front and the mesh we used for the annex floor is sopping under foot, under chairs, under fridge, even underground, it would not soak up anymore water. We were booked for 10 nights.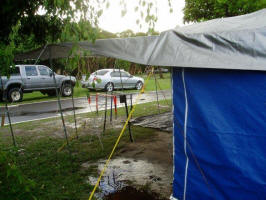 The days were moist but comfortable some sunny spots.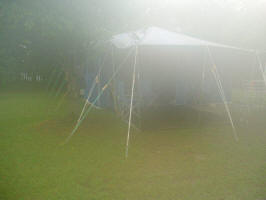 The mornings were cold, foggy.
Very proud of my 30foot tarp, it stood its ground, against some very long and strong rainy nights.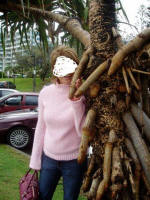 Wife's highlight for the holidays
She found what she called a doodle tree. I took her face out, but left the smile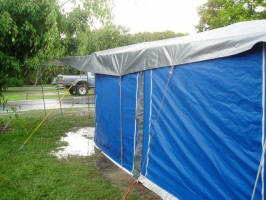 At the end of the day we had a really great holiday, well rested but we only lasted eight out of ten days, rained every night without fail with rain most other day. I guess it is not as adventurous as the stories I have read in oar and amazement on the CamperTrailers forum, but I hope you enjoyed it.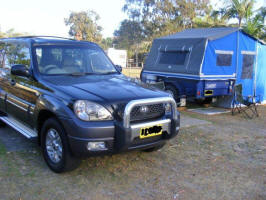 Only half the camper set up as you all can see?
Due to the lack of energy the Hilux had it has been traded in for a V6 petrol engine Hyundai Terracan 4x4 auto. Nice unit & diesel too hard to find on the market. Now the trailer is no weight at all
I was going to enter my camper in the dirtiest trailer contest. See in front of the trailers wheel, near the jerry can holder & on the back wheel on the Terracan...... Try the zoom.
I have spent many a night on the CamperTrailers forum, reading and learning. To the forum owners well done. And to the members, for their input. Thank you.


july 2010