fitting gas struts
to the camper top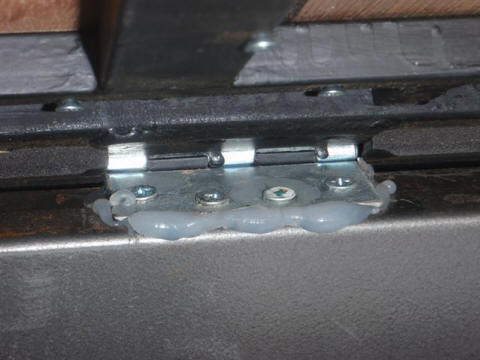 For safety always use a rigid stay as a physical lock for when the camper top is open. I used a piece of 2 x 1" cut just shorter than the fully open height. This allowed for the struts to be positioned slightly loaded at this locked height.
I hinged my camper top with 4 x 100mm Butt hinges each with 4 x 6mm countersunk bolts either side of the hinge. Drilling and positioning this was the most difficult part of this process and required the assistance of the neighbours. I measured, drilled and bolted the hinges to the top, lifted the top onto the trailer and marked the position of the hinges, and removed it again. I then used an extra hinge as template to mark the holes on the trailer, allowing for some tolerance I drilled 8mm holes. I then used a dab of Silastic to hold the bolts in position and then hold the hinges closed. Once again the neighbours were enlisted to lift the top back on while I did up the nuts. Hopefully the pictures will help explain the process.
Now for the struts.
There are several considerations for the fitment of struts to the camper.
The size and design of kitchen or internal storage you have or are planning. This info will give you the sidewall mount height, 50mm below the lip of the trailer in my case, and position of the rear strut.

The total packed weight of the camper top. 150 kg in my case. Bathroom scales under one side give you half the weight of your top.

The height you wish to open the top to, remembering the bedding is above.
These will give you the start point to seek a supplier of the struts for advice on exactly what strut you require for your camper.
Next the brackets for both ends need to be fabricated and fitted. These need to be of sufficient strength to handle the forces involved. I used 6 x 40mm flat for my brackets and made the top brackets 200mm long to spread the load.
I fitted the sidewall mounts and then the position of the top mounts was dependant on the length of the struts required for the job. I used a 30 mm spacer on my timber stay to open the top past my lock point. Attach the strut to the sidewall mount and then mark the location of the top mount and affix. By removing the 30mm spacer you have the struts under tension at the open position. This means they work or assist lifting through the whole range of the opening.
I then used three offset cam latches too lock the top down. I had to set them off from the sidewall using 50mm gal box so they would align correctly but this is dependant on your trailer.
thanks to Andrew Ebb for sharing this idea
august 2009