folding stoneguard
making access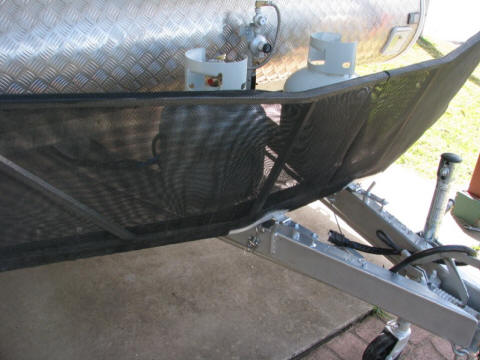 The stoneguard on the Goldstream Crown was fixed to the A-frame (Photo 1) and was too close to the back of the Prado, the rear door only partly opening, barely enough to open the fridge. I decided to investigate the possibility of hinging the stoneguard so that the Prado's rear door could more fully open, at least enough to allow us easy access to the fridge.

I wanted to keep any modifications to a minimum, preferably no welding (the stoneguard frame turned out to be aluminium anyway, not the steel I had assumed), limited drilling of the A-frame, and to cost as little as possible.

The stoneguard was held onto the A-frame by two saddles fixed onto bolts that had been welded to the frame. I decided to use these bolts as is, and to modify strap hinges to fit over these and for the hinges to be fastened to the stoneguard, thus allowing the stoneguard to pivot forward, lie flat and so provide clearance for the rear door. The stoneguard was first unbolted and laid flat on the A-frame to check that the idea was feasible. It was.

Two strap hinges (in hindsight I should have bought heavier ones) were cut and drilled and laid in position over the existing bolts (Photos 2 & 3). The stoneguard was offered up to the hinges and mounting holes marked. These were drilled and the stoneguard was fastened to the hinges (Photo 4).

When hinged, the stoneguard was slightly rearwards of where it had been and now was proud of the A-frame. Two short legs were fashioned out of aluminium angle to support the stoneguard, and these were set so as to angle the stoneguard slightly forward. This was done to provide space behind the stoneguard so that the handle that winds up the camper could be inserted into its socket. Short lengths of rubber were stuck to the A-frame under the legs. To lock the stoneguard in place,toggle catches were fixed to the A-frame and modified eye-bolts were fixed to the frame of the stoneguard (Photo 5). The modified eye-bolts were required because the "hooks" that came with the toggle catches proved to be unsuitable.

Photo 6 shows the re-assembled stoneguard partly folded down - the jockey wheel is in the way, but would not be there when the camper is hitched to the Prado.

It is now a simple matter to fold down the stoneguard and have sufficient clearance to open the rear door - still not quite fully as the gas bottle prevents this, but it's a lot more convenient now.
| | | |
| --- | --- | --- |
| | | |
| Photo 1. Stoneguard as supplied, bolted to the A-frame | Photo 2. Strap hinge as bought, laid over the existing bolts | Photo 3. Strap hinge cut and drilled |
| | | |
| Photo 4. Stoneguard frame bolted to the hinges | Photo 5. Stoneguard folded forward, showing short support legs, rubber pad on A-frame and toggle catch with modified eye-bolt | Photo 6. Re-assembled stoneguard folded partly forward |
thanks to Richard Graylin for sharing this idea
august 2009