our diy camper trailer
Graham & Yvonne in New Zealand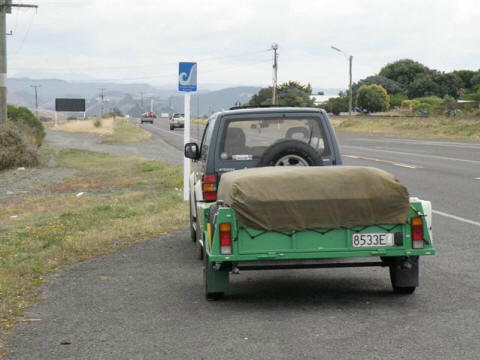 In early 2007 I was looking into possibly buying a pop top camper or small caravan. After perusing the papers and on line auction sites I decided that either these campers were made using precious metals or their owners were particularly optimistic. That's when I happened on the campertrailer.org site and I was hooked.
As a maintenance engineer by trade building a trailer was a walk in the park. We already had a couple of tents from our camping days when the kids were young. So after looking at all the photos on the site I dragged the tents out into the backyard and started measuring up. The smaller of the two looked ideal to start with, but the width and where the door was fitted meant a lot of alterations to the canvas. The larger one, a Great Outdoors 'Nevada' tent, got the nod and so with trusty tape measure in hand I went to the steel pile and started to drag out every piece of 50 x 50 Duragal I could find.
Fortunately I had a set of alloy wheels off a demolition derby car and a good set of tyres. So down to the local auto parts store for a set of stub axles, hubs and springs (rated 1500kgs) and a visit to the local auto wreckers for a couple of wind up jacks for stabilisers. An old portable drill with a hook attachment makes short work of lowering and lifting these. So within a couple of weeks I had the basic trailer built and painted. I then built the bed base, lined it with ply and added a battery box (big mistake).
At this point I was very much dependant on an older brother who runs an auto trim business. But with a bit of cajoling we finally got the canvas altered to suit the trailer. The canvas is fitted using aluminium awning channel around the bed base frame and held up using the original aluminium frame poles. After some experimentation and some minor mods we got it all working sweetly.
A length of 150mm PVC pipe was added to the draw bar for the poles. At this point I started on the kitchen. I built the first one using ply and spent some quite long nights out in the shed during the winter designing and constructing. Unfortunately it all proved to be a waste of time as it ended up being too heavy and awkward to pull in and out of the trailer. Back to the drawing board! That's when the lovely Yvonne stepped in and suggested we use the collapsible unit we used for camping. It consists of a light metal frame that bolts together using thumb screws and has a ply wood top and shelf. It takes about three minutes to put together and has room for cooker, pots and pans, cutlery drawers and wash up bits and pieces. A gas bottle frame was installed on the draw bar along with a small lockable tool box.
Right, now for the 12volt system and that battery box. Again referring to the campertrailers.org web site the lighting system was a breeze. It's just that when I first installed the battery box I had measured up a battery that looked like it was big enough but with some further research I decided on a bigger one (in all sense of the word.) So off came the box for some major mods to allow the new battery to fit.
After struggling to open the top a few times to access the inside of the trailer I added my patented Holden jack lifting system.
From there it was a short hop to getting a mattress, inner sprung of course, searching the shed for all our old camping equipment, cleaning said camping equipment of 20 years of neglect and finding enough plastic storage boxes down at K Mart to put it all in. The last major job was building and installing the folding step.
So at last in early Jan 2009 we set off on our maiden voyage and it was a success. Every trip we have done since has seen us make minor alterations but nothing to make you loose sleep over. We are rapt. Thanks to all on the Australian CamperTrailers Group, specially you Rob.

thanks to Graham for showing us around his camper
may 2009