Grant & Julie's Sunset Camper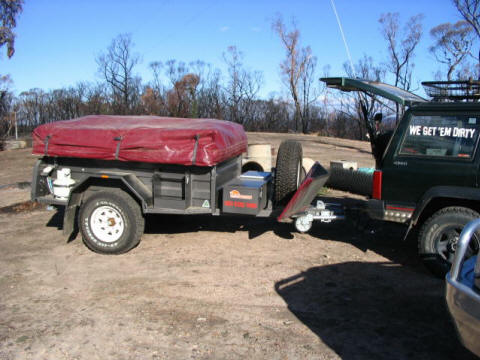 Julie & myself looked at many types and brands of camper trailers and in many price ranges from $5,000 right up to $45,000, some were more expensive than our Jayco caravan with half the features.

We settled on a locally built camper from Sunset Campers in Ballarat as they had a quality product that was affordable and being reasonably local to us, just 64 kilometres away, we could watch the trailer being built and also pick the options that we wanted above standard. We opted for electric brakes and top of the line stove.

This camper came complete with a very comfy queen sized 6 inch deluxe mattress. The bed base will take an innerspring matress if required, but it does not need one. The trailer is fitted with 7 leaf eye to eye military wrap rebound springs, 6 stud Sunraysia rims with 31*10.5* 15 inch light truck tyres, and tows very well. I have taken it over the Melbourne Jeep Owners Club training complex tracks including the side angle ramps which lifts one side of the vehicle to 25 degrees with no problems at all.

The tent unit unfolds easily by one person and the floor is fitted to the tent itself with velcro so if you want to remove the floor it is a 5 minute job.

I have fitted two low amperage fluro lights, each draws one amp per hour, with a LED panel in the tool box and under the bed storage area. I fitted the battery and all controls into the standard fit tool box on the front and a small solar panel onto the top. This is sufficient to keep the battery charged all the time. Battery is also hooked up to a trickle charger for when you have power available.
One big advantage is that you can open up the floor area with tent erected as long as no one is relaxing on the bed.



thanks to Grant Jones for sharing this idea
may 2009