hiring a camper
to hire or to buy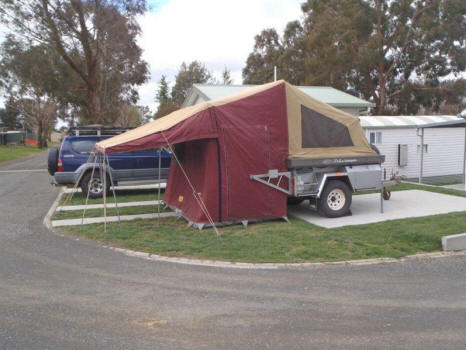 I had the pleasure of hiring a Deluxe Camper Trailer through Happy Campers. My family which includes myself, wife and two kids 11 and 8, had planned a trip around mid western NSW. This was our first experience with a camper trailer. We rarely have camp holidays together, I camp on my own and family holidays usually involve a motel.
We picked up the camper from Rod Pyne who ran us through a fifteen minute demonstration on the camper set up and inclusions, then we were on our way. The trailer towed beautifully, my fully loaded 1999 model V6 Prado had no trouble pulling the weight and the brakes on the trailer were sensational. It wasn't long before we hit the track where the off road capabilities of the trailer became apparent. It had plenty of ground clearance and was very sure footed over some less than perfect tracks.
Set up was quick and fairly basic for anyone with a bit of experience banging in tent pegs. Pack up was also quick and easy, with the bedding able to be left in place ready for the next stop.
Overall our experience was very positive. We had looked at purchasing a camper for ourselves, but after hiring one we believe that this is the way to go for us. It is a very affordable way to camp, there is no ongoing maintenance costs and the trailers are always being upgraded so you can always hire state of the art gear. We also thought that a new shed would be required to house the trailer, another additional cost.
The trailer we hired costs approx $17,000 brand new and after using this one, going back to a lesser trailer would be a struggle. When you compare that outlay against the cost of hiring one a couple of times a year for a week or two at a time, it is a no brainer. All the camping gear you could ever wish for is also available from most of the companies that hire out the trailer. I cannot recommend hiring a trailer enough before outlaying thousands of dollars for your own trailer. At the very least you will get a first hand experience in towing and setting up a trailer to see if it is all that you thought it would be.

thanks to Graham Todd for sharing his thoughts
november 2011