jaycar 21 LED light
Low draw 12 volt lighting is a real bonus when camping, particularly if you intent to stay in the one location for a number of days without moving.
Jaycar have a FLEXIBLE 12V LIGHT - 21 WHITE LED catalogue number SL3950 which seems to be well suited to a camper trailer environment. The plastic 24 inch or 610mm long flexible sealed tubing contains 21 bright LED's with screw holes each end for mounting. Power draw is rated at 200mA. The light also comes with mounting screws & a small rocker switch.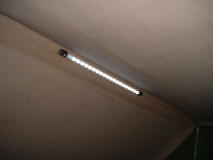 MOUNTING. I mounted the LED light on the centre ridgebar inside our Track Trailer Eagle so it would useful as lighting over the kitchen area. The high light position floods the tent area well, however the light is ok for general work but would not be suitable for reading at night at this height. A Tuco light would be better suited for this purpose.
I carefully pushed two holes through the canvas with a leatherwork awl so I could drill the screw holes into the ridgebar. I also pushed a hole through for the thin wiring.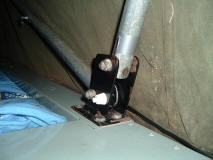 WIRING. I ran the wiring down the back of the tubing to keep the wire invisible securing it with duct tape. The bracket which the bars swing from was the perfect place to mount a switch This is were the wiring also ran out, but luckily I had bought a few extra metres.
I finished off with a fused cigarette light plug Positive +12VDC is the black & white trace.
As you can see from the photos my project turned out just like a bought one.
by Rob
Sept 2006