slide-out kitchen support
The kitchen in our Sturt camper came with support legs that folded down once the kitchen had been slid all the way out. This was awkward as it meant that the weight of the kitchen needed to be carried while walking backwards then folding down the legs without jamming any fingers. To overcome this I have built 2 removable support legs that have wheels.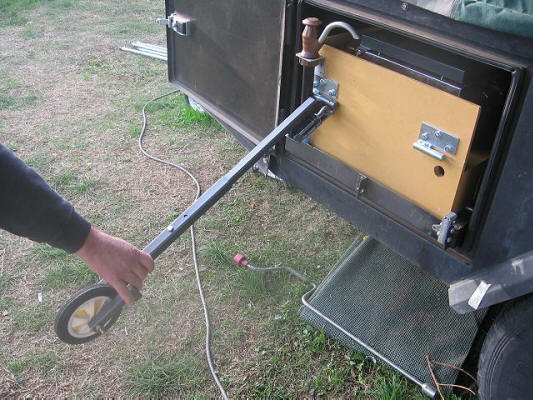 The legs are made from 2 pieces of square tube, one inside the other. The length is adjustable using a series of staggered holes in the tubes with a bolt holding it in place. I avoided using a grubscrew arrangement as I believe the bolt is more secure.
I donít want anything to let go while anything hot is on the stove. A wheel is fitted to The bottom of each leg while one half of a gate hinge is welded to the top. The gate hinge slides onto its matching half (this is bolted to the kitchen), the leg then drops into place and is held secure by a padbolt. Once both legs are on the kitchen can then be rolled out to its full extent. The legs are easy to store in the toolbox and the kitchen can be rolled in or out with minimum effort.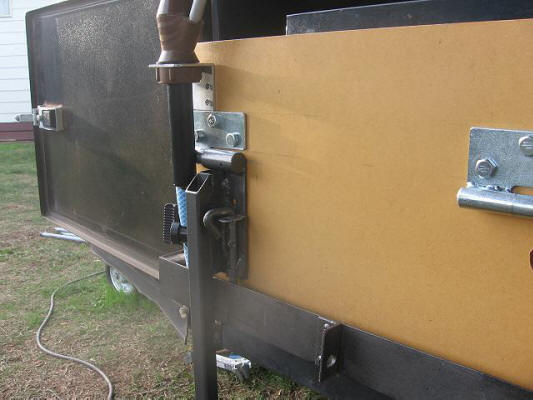 Leg locked into place. The padbolt holds the leg in place when the kitchen is being pushed back in.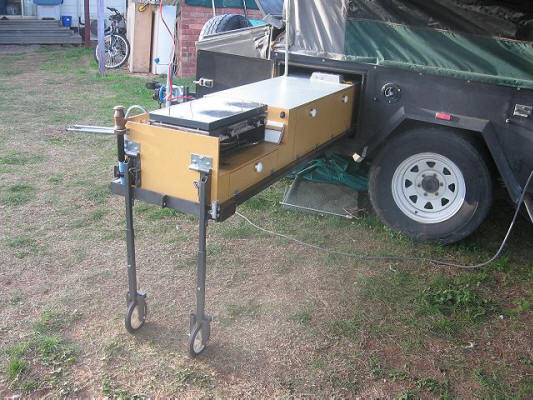 Thanks to Des for sharing this idea