tim's bike rack idea
for the kimberley kamper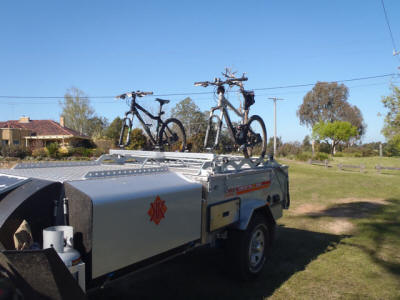 In June this year we upgraded our existing Kimberley Kamper to a newer model with a few extras. One of these extras was a boat loader to enable us to easily take our kayaks camping. The kids and I also enjoy Mountain Bike riding which lead me to design and build a bike carrier for those times when we don't take the kayaks.
I started off by removing the boat loader. Once this was off I was able to plan the build. This design is suited to those KK's that have or can have a boat loader. It using the existing locating pin on the rack along with an over centre catch on one side and the loader cradle bolt hole on the other.
The bike rack is made up from a length of 50x50x3 RHS, a few off cuts of 65x65x5 angle, an M8 bolt, a couple of nuts and pin, an over centre hook and a few Thule through axle mount and I was away.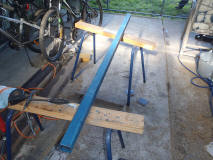 I started off cutting the RHS to length followed by tacking on three pieces of angle which were to become the mounting plates for the Thule holders. Next was to cap the ends with angle which kept a similar profile to the removed boat loader. One end required an M8 bolt which would be used with two nuts and a small hitch pin to secure it to one side of the kamper. The other side was capped and an over centre hook was welded on to use the existing catch on the kamper. There was also a hole drilled through the bottom to enable the locating pin on the kamper to be utilised.
Next was to drill the holes on the angle to accept the Thule holders, then a coat of Silver Gal in keeping with the kamper's rack.
Stainless steel rivets were used to secure the Thule holders to the rack. I'll keep an eye on these for signs of fatigue and may change one or two on each over to bolts if required.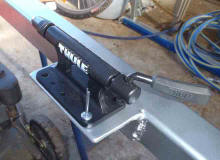 The test fit – the far side is bolted and the near side uses the existing over centre catch which is used to lock the boat loader down when fitted.

A closed up of the Thule holder – very secure and effective but I'll use a strap on the rear to hold the rear wheel or frame to stop 'rear bounce'. Two bikes fitted – room for one in the middle for a total of three MTB bikes.
thanks to Tim Marshall for sharing this idea
september 2011