led strip light
protective travel cover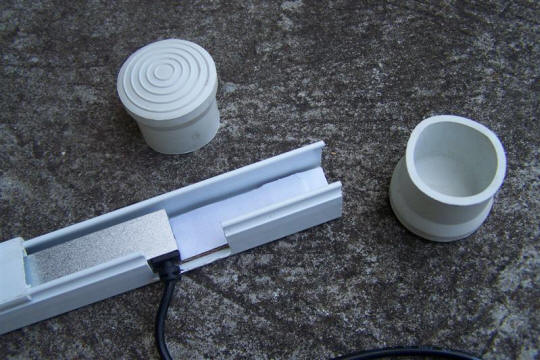 The LED lighting market is pretty exciting at the moment as prices drop & the once expensive quality products I have drooled over have come into the reach of us camper trailer owners. As with the old saying you get what you pay for, I have avoided the urge to buy the cheaper low quality imported LED's.
We had been looking over time for a quality LED light for use under the awning of our camper, so when we spotted the one metre long strip light with 60 high powered warm white LED's at Dynamic Solar Solutions recently we knew it was for us. The LED strip light casing is made from an aluminium epoxy fully sealed case for outdoor use. A three metre lead is a handy length too & comes with bare wire ends. I added a quality cigarette plug. We were instantly impressed with the light it threw, although drawing 1.2 amps, the main use is intended as a main light after dark for eating, washing up etc, & then use our other low draw LED's we have for sitting around chatting or finding our way back to the camper from the campfire.
Most of the venerable gear we want to keep safe usually sits on the campers mattress under the doona before the camper is closed down. Seeing the LED's aluminium casing is so long & could be easily bent I decided to made a cover for it & also to protect the LED's themselves while travelling. I happened to mention to a mate about the project I had in mind & he said he had the perfect thing for me at home, a length of 25 x 25mm AussieDuct square conduit with removable top. And how perfect it was.
I like these projects that come to light & only take a couple of minutes to evolve. I cut the conduit to length & then cut a slot in one side to allow the lead to come through. A also glued a length of fluted cardboard in the bottom to protect the LED's themselves. A couple of 32mm diameter rubber caps from Clark Rubber completely encloses the ends. A very simple & effective protective cover for the LED light.
Rob
january 2011