nsw
macquarie woods weekend
Saturday 17th to Sunday 18th November, 2012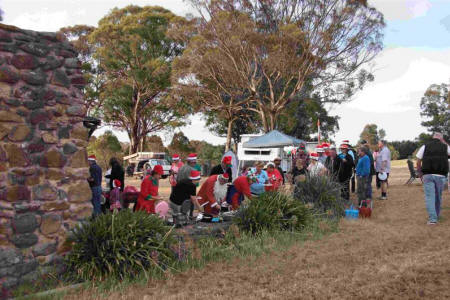 Xmas food line up
A total of 37 camper trailers from the Australian CamperTrailers Group attended Kevin and Carolyn's second meet at Macquarie Woods which had a 'Xmas in November' theme.
Macquarie Woods is a state owned forest, approximately 30km west of Bathurst, off the Mitchell Highway via Cashens Lane. The camping area is large, tree studded and grassy with about eight drop toilets, but no running water was available. Fire Ban signs prevented any camp fires.
Six campers arrived early on the Thursday and the majority of campers arrived on the Friday. The weather was partly cloudy, with a gusty wind on occasions. The day temperature hovered in the mid 20 degrees, dropping to 3 degrees on one night. However, when the wind dropped the flies came out.

The campers entered into the spirit of Xmas by decorating their campers with flashing lights, windmills, flags and bunting. Members also wore Xmas attire and we had two resident Santa's and an elf. Most nights we had the obligatory happy hour and new members were welcomed and introduced.

Our Xmas Communal Meal started at 6.30pm on Saturday night and the weather smiled kindly upon us. We set up members tables into two rows for about seventy people. Tables were decorated with Xmas tablecloths, confetti and candles. The hot food was placed on the sand stone flagging adjacent to the information shed and the cold food placed on tables. Later the desserts were bought out.
A brief summary of the food we enjoyed was:
Cold Food – Chicken, beef slices, seafood paella, ham, sliced eggs, prawns, various salads, beans, rye bread and more………
Hot Food - Chicken, roast pork, beef stroganoff, rosemary lamb, rice, baked and cheesy potatoes and more………
Desserts – Mince pies, fruit cake, rum balls, coconut slice, ice cream, custard, grasshopper pie, fruit platters, reindeer peppermint sticks, cheesecake, lollies and more……..

The lines were long as we eagerly anticipated the food.

Some notable happenings during the weekend were:
Rob and Dave experienced blow outs of their Santa windmills, Malcolm catching lots of yabbies, Doug breaking off his jockey wheel handle and later demonstrating how to devein the yabbies for cooking, Clive and Sharon arriving in their new motorhome, cool Xmas hats.

The meet seemed to be very enjoyable and many members expressed their hope that the CamperTrailers Group host another Xmas theme meet at the same time and place. Several local members have expressed interest in hosting next year's meet.

Most of the members departed on the Sunday, whilst about eight other campers stayed on until Monday.
Your hosts, Kevin & Carolyn
photos