macquarie woods weekend
near bathurst nsw
Saturday 19th to Sunday 20th November, 2011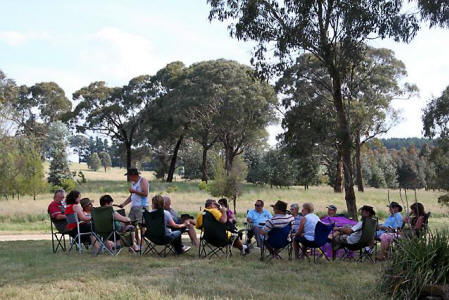 Saturday afternoon happy hour

A total of 19 camper trailers from the Australian CamperTrailers Group attended our first weekend camp that we had hosted at Macquarie Woods which is a state owned forest, approximately 30km west of Bathurst, off the Mitchell Highway via Cashens Lane. The camping area is large, tree studded and grassy, has a mixture of drop and flushing toilets and a water tap for non drinking use. Beautiful views and colourful sunrises added to our enjoyment.
The majority of campers arrived on the Friday. The weather was partly cloudy, with no wind and the temperature hovered in the high 20 degrees. Unfortunately the flies were waiting for us. At 4.30pm we had the obligatory happy hour and new members were welcomed and introduced. Those campers who hadn't been to Macquarie Woods before were very pleased with the camp site. Later that evening a few fires were struck up in the fireplaces but most members retired early to bed. Members had travelled as far afield as Queensland, Sydney, Central & South Coast and Central West NSW. The phone coverage and TV reception was reasonable.
Saturday morning was sunny then turned partly cloudy in the afternoon. Again the temperature hovered in the high 20's. A communal meal had been planned for 6.30pm. This meal was entirely non compulsory and the members participated or attended. Most bought their own table and they were all set up in line. The food was placed on the sandstone flagging adjacent to the information shed and it included:
| | | |
| --- | --- | --- |
| Gourmet Kangaroo Onion | Bhja & Papadams | Turkey Roast |
| Scotch Eggs | Burrita Pie | Curry & Cous Cous |
| Ravioli | Seafood & Chorizo | Roast Dinner |
| Chicken Pasta | Beef Hotpot & Rice | Beef & Black Beans |
| Dry Beef Curry | Apple Cobbler | Carrot Crčme |
| 2 x Caramel Tarts | Pineapple Rum | Pudding Damper |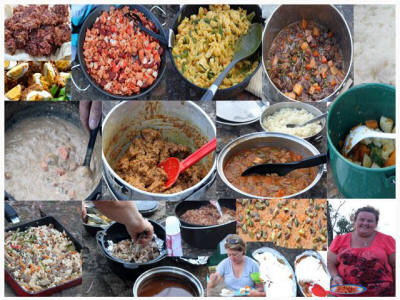 With much laughter and frivolity we all enjoyed the communal meal. It was suggested that the CamperTrailers Group host another meet at the same place and date next year, 17th/18th November 2012. The theme for the 2012 weekend was proposed as an "Early Xmas".
Peter Elliot showed off his new shower tent, but he didn't use it until after the meet. Donna and Ed's new shower pump was a "dud". The Lacey's kids paddled their kayaks on the "duck pond".
Most of the members departed on the Sunday, just before the rain arrived. Six other campers stayed on until Monday.
Your hosts Kevin & Carolyn Davis.
photos