NSW
macquarie woods weekend
Ken and Joy from Orange hosted this year's Macquarie Woods get together at the Vittoria State Forest, halfway between Bathurst & Orange over the weekend of Saturday 16th & Sunday 17th November 2013.

The weekend was in doubt for some time due to the possible closure of the Macquarie Woods camping area. The forestry Corporation had closed Macquarie Woods in mid-October so aerial spraying could take place. Fortunately the spraying was completed a bit over a week before we were to arrive.

There were a few members who decided to make an early start to the weekend by arriving on Thursday afternoon with most of the remainder arriving after work on Friday.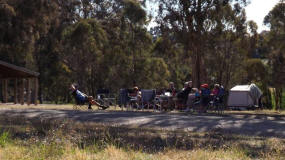 By Saturday lunchtime pretty much all the campers had arrived and filled the camp area near the information structure.

The numbers were down a bit on last year, possibly due to the uncertain availability of the site and the forecast weather. All up 25 families attended.

Saturday afternoon the rain begun and a number of tarps were hastily erected beside the information structure, thanks for all the help and materials.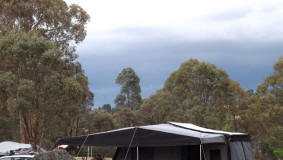 This action seemed to scare the rain away and the communal meal and dress up (this year Swagman and Outback Characters) preceded as planned.

Around 6:00pm the prepared meals started to arrive and the show got underway. Following the meal Elaine and Barry provided sheets of lyrics for a sing-along. Elaine de-cyphered "Waltzing Matilda" much to everyone's enjoyment. The evening finished with a few hardy soles huddled in Elaine and Barry's gazebo to keep out of the cold. Through the evening the taller members of the group carried out an interesting test on the information structure. They used their heads in attempt to break the beams. Most seemed to stop after one or two attempts but Ken managed to continue to the end on the evening.

Sunday morning came and went with campers slowly packing up and leaving for home. A small number remained until Monday morning.

Overall the weekend was a laidback affair with a few ideas shared and new friends made. Some campers also toured the region, drove the northern trail and visited the lookout at Macquarie Woods.
photos