mair dutch oven lifter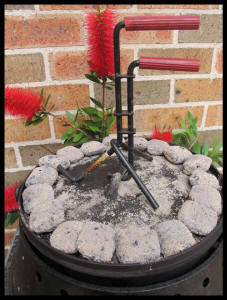 At some of the recent gatherings one of my toys that received a lot of comment was the Mair Dutch (Camp) Oven Lifter. My early days of camp oven cooking resulted in accidents with heat beads and ash. The complimentary lifters that came with my camp ovens didn't seem all that stable when I used them.
This lifter from a female viewpoint pushes down equally on three points when you squeeze the handles and I can easily manage lifting a lid full of beads and without burning myself or tipping the beads off or ash into the food.

Lots gave it a test and agreed with me that it was a great cooking tool and exceptionally stable. The Mair Dutch oven lifter comes in three sizes, a 14" for working at a table or on a cooking stand, a 22" for cooking in a pit or close to the ground, and the newest addition the 9". The lifters are made of steel for years of service. I have both the 9" and the 14".
"Several years ago these lifters were made in a small shop in Midway Utah, each piece of steel was hand cut and bent then welded, hand dipped in paint and hung to dry, after which they were packaged and shipped to dealers and individuals. Today these lifters are manufactured off shore using state of the art manufacturing equipment, ensuring precision bends and perfect welds, then powder coated for a more durable finish and a smoother action".
They are available from the website http://mairdutchovenlifter.com and they do ship to Australia.



thanks to Carolyn for sharing this idea
november 2010