Victorian members weekend get together
MOUNT BUANGOR STATE PARK
Middle Creek Camping Area
Held on Australia Day long weekend Saturday 26th to Monday 28th January 2008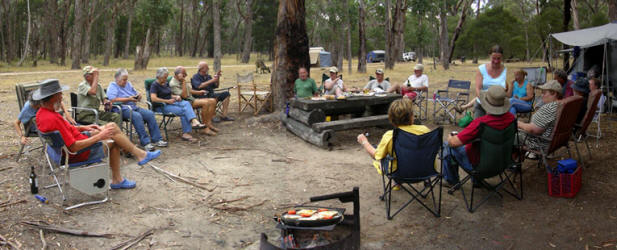 The Middle Creek Camping Area that is part of the Buangor State Park is approximately 15 km west of the small town of Beaufort, itself approximately 165 km NW of Melbourne.

I arrived Friday lunchtime to find campers already settled in at the large grassed area of Middle Creek. Some had chosen sites well out in the open, whilst others chose to set up at one of the many wooden table settings scattered around. Centrally located were the facilities, information boards, and the start of various walking tracks – all overlooked by the imposing shape of Mt. Buangor.

Half of the attendees had arrived by Friday evening, with the rest turning up on Saturday. One turned up Sunday, along with one day visitor. All up there were 44 of us in all age groups staying in various camper trailers, pop tops, caravans, and tents. Scattered over the whole camping ground was a backdrop of Australian flags of all shapes and sizes like stars in a night sky.

The weather was exceptional – apart from a few short insignificant spots on Saturday night, it was consistently very hot and sunny. I think there were a few of us who succumbed to a bit of sunburn. Certainly everyone's solar panels were up and running, and 20 litre solar camp showers lay out in the sun everywhere.

It was great to catch up with friends I had made from previous get togethers & also this time to meet new friends face to face who were previously only known to me from posts on the website.

It was good to realise just how much we all had in common & yet still have interests other than camper trailers. Everyone was friendly, and in particular the first timers, newer members, friends of members, and guests were made especially welcome. Many of us learnt about and saw some interesting things to try and buy, as we all seem to do at these get togethers.

Our special guests were from Track Trailer, the Australian based and owned company located in the eastern suburbs of Melbourne who manufacture the Tvan campertrailer. Accompanying them were several members of the Track Campertrailers group who had expressed a wish to attend one of our get togethers. A number of people are members of both groups. Thank you all for coming along!

No formal activities were planned, but on Australia Day everyone gathered around the campfire at night. For supper everyone brought a small plate or packet of iconic Aussie cakes, or snacks or lollies which was placed on a table and shared by all. There were scrumptious treats such as lamingtons, SAO biscuits, Violet Crumbles, Tim Tams, Minties, Kool Mints, and Teddy Bears. Last but not least, special thanks to Rob, Eveline and Ann who produced an enormous salmon that was cut up and cooked over the fire.

After this we had a short "Show and Tell" where anyone could show off various handiest items when going camping.

Sunday morning we had the popular and informative walkabout which has become something of a tradition at most of the get togethers I have attended. We visited every camper trailer where each owner gave a short talk about their set-up, warts and all, including the cost. Better than going to a camper show! The many Tvan's were of particular interest, as were the Dreampots, Cobb Cookers, and instant hot water systems.

An unsuccessful attempt was made to locate the so-called water hole for swimming, but as some people reported that the waterfall had no water because of the drought, it would appear that we hadn't suffered a major disappointment.

Some of the things I will remember will be the wafting aroma of bacon & eggs and fresh coffee, sipping champagne and beer as the sun went down, the kids playing various games, little Camden learning to bike ride, the adults playing bocce, sleeping in until 8am, the variety of solar panels in use, chatting and laughing around the various campfires, the prolific bird life, the kangaroos and wallabies, watching the excitement on Ian & Sandra's faces as they setup their hours old Dingo, and the large black feral cat about to raid Bob & Ann's Tvan (this was not the famous Western Vic panther).

There were many other memorable moments for all of us.

Personally, I will always remember the emergence of the humble shower tent as a source of much entertainment, amusement and education - better than anything now showing at my local multiplex:

Case 1: Late Friday night an anonymous shower tent was seen propelling itself along the road in a westerly direction. Those of us who were calmly partaking of a few lemonades around the campfire had never witnessed anything quite like it, and rubbed our eyes. In the dark a few detached centipede like legs could be seen sticking out, but again, anonymous. Those of us who were game enough followed this self-propelled spectacle along the road until all was revealed at the final destination. Thank you Leanne Paul and Ron for a spectacular achievement in shifting campsites almost undetected. As one of the shocked spectators later said, it's definitely "Leanne 08"- so we all eagerly await an encore performance at the Peak Hill National Meet in late September 2008.

Case 2: A recalcitrant shower tent was wrestled on and off in the midday sun for quite a while until its owner got so shy (or?) that he retreated with it into the confines of his camper trailer so as not to be observed. A lot of strange noises and cussing could be heard whilst an excited group of paparazzi gathered with cameras at the ready. The somewhat distressed shower tent eventually emerged and was quickly calmed and folded by a professional shower tent tamer. Thank you Dale and Kathleen for this extraordinary insight into the secret life of a shower tent.

Case 3: Who was that who forgot their hammer, and was seen banging in their shower tents pegs with the T pin of a Tregg hitch?

Case 4: meanwhile, it was quite calm over at CUB Kamparoo Korner where Robert's new shower tent was set up as the new sun and wind free shelter for his Repco 3-way fridge. When a shower was needed, the shower tent was simple lifted up and away to a new spot.

The last of us left Tuesday morning by 11 am.

Everyone who attended would probably agree that Mt. Buangor was a magnificent location for a get together, with the added bonus of great weather.

Thanks to everyone who attended for a great time, especially considering in some cases the long distances travelled.

I enjoyed your company enormously and I'm looking forward to the next one!


Robert

Attendees were

Paul & Leanne, Southern Cross off road, Nissan Navarra
Rob, Eveline & Anne, Avan A-liner & Black-Wolf tent, Mazda Tribute
Craig, Kathi, Connor (14) & Camden (5), Track Prototype poptop caravan, Yoyota Landcruiser 80 Series
Rolande & Holly, Coromal off road, Nissan 4WD
Alfred & Maartje, Tvan, Nissan X-Trail
Lindsay & Sandra, Sundowner caravan, Nissan GQ Patrol
Ron & Shirley, Goldstream RV off road caravan, GU Patrol
Ken & Yvonne, Tvan, Toyota Landcruiser
Ian & Sandra, brand new unused Dingo 2000, Nissan Patrol
Bob & Ann, Tvan, Nissan Pathfinder
Frank & Janice, Adventure off road Pilbara, Nissan Navara
Ross & Judy, Tvan Muranji, Toyota Landcruiser
Dale, Karen, Em (16), Nick (13), & Jez (8), Dingo, Commodore wagon
Stewart & Annette, Tvan, Nissan Patrol
Bob & Julie, Viscount ultralight Poptop, Nissan Navara
Jim & Joy, Tvan, Nissan Patrol
Robert (host), CUB Kamparoo, Ford LTD sedan
Day visitors: Kevin, Kathleen, Josh (15), Daniel (13), Riley (11) and Courtney (4).


A full photo album of Robert's photos can be seen at
http://s216.photobucket.com/albums/cc274/ballaratslicker/
On the left side of your screen, scroll down to the album "12MTBUANGORVICJan2008"