Betty & Trevorís
Modcon Imperial HF
front folding camper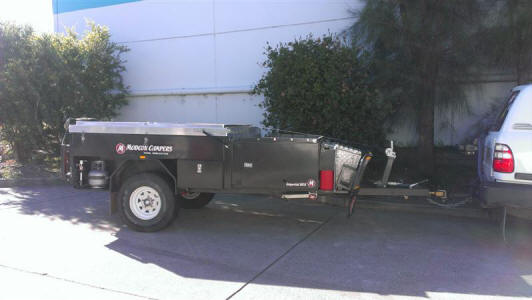 Having towed our eighteen year old Campomatic for six weeks all around the Kimberley last year, we decided it was time for an upgrade. We had looked at Modcon Campers several times in the past and were particularly taken with the forward folding Imperial HF Anniversary model. So after much deliberation we ordered a new build in late September last year from Kerry at Modcon in Queensland and had it delivered to Sydney in early December. Prior to delivery I took a quick flight up to factory for a few hours so Kerry could run through everything with me and to take the first look at our new camper. The camper was delivered to our door by Reardonís transport for the very modest cost of $500.

On ordering we only made a couple of changes to the camper, we had a Treg coupling fitted instead of the Hyland hitch (at no extra cost) and had the wheels changed to match our tow vehicle fitting 285/75R16 Dick Cepek Fun Country 2ís on 5 stud Landcruiser rims. This was done at extra cost but with a minimum of fuss. Kerry was very helpful and obliging in all aspects of purchasing the trailer.

The camper included electric brakes, an electric water pump, LED lights inside the camper, two awnings with all poles and ropes, a fold up table, plastic storage boxes on a huge pull out drawer, a large aluminum storage box on the front, two jerry holders, a 120 litre water tank and 223 amp hours of battery power from two 6 volt batteries connected in series.

Our first trip was meant to be for ten days at Christmas, but due to a family crisis we only managed to get away for a couple of nights near Gloucester NSW. The camper is heavier than our old trailer, but towed like a dream. It is also very easy to set up and pack up. Although this was a quick trip and was really not enough time sort out where everything would live, it was enough time to decide that a manual water pump was also required as the electric one could only be accessed once the kitchen was open and set up, making washing hands on the side of the road difficult. We also needed an extended the tow tongue by 100mm to sit the camper further back so we could open the Cruisers rear barn doors when still connected. You would not be able to open the full width rear barn door of a Prado or Disco with the trailer still hooked up.

We also decided as we will be doing a three week trip to the Eyre Peninsula and the Googs Track in August this year that we need extra fuel can holders for the generator and the chainsaw, so Trev made extra holders behind the stone guard to hold the 10 litre containers. This was done by tapering the steel to fit into the ends of the existing frame work and bolting it through existing holes so as not to have to weld anything and damage the new powder coat, we have also added the Easy Connect magnetic trailer plug from the old camper as this is a much better connection and is water proof.

It has taken me four trips to sort out where everything lives but I am happy with it now. I managed to get more of the same type and colour canvas making end walls to suit. The only drawback for some is door cannot be opened while the camper is closed. Luckily when the camper is in the shed we can open the top enough for me to gain access to the inside, so this is not an issue as we always leave it partly open when not in use.

The trailer is very long at over five metres with the wheels set well back, but this has not been a problem when crossing creeks or going over humps. The ball weight when loaded is around 220kgs and is still within the legal range for the Cruiser, while having the water tank and kitchen at the back helps keep the balance.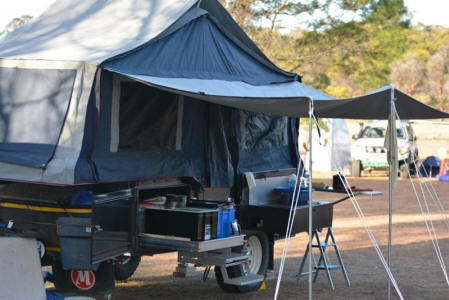 We are very happy with the trailer, it is very well made and is worth every cent we spent on it. We look forward to many years of happy traveling and camping.

See you on the tracks

Betty Ray
august 2014