Murrindindi Scenic Reserve
near Yea Victoria
held on the weekend from Friday 30th October to Tuesday 4th November 2008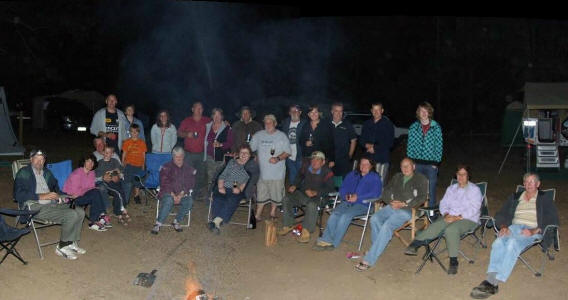 Well, what a long weekend camp we had at Murrindindi Scenic Reserve.

Murrindindi Scenic Reserve is located at the Northern end of the Toolangi Forest about 10km off the Melba Highway and approx. 20km South of Yea in Central Victoria. Murrindindi, aboriginal for 'mountain home' is beside the Murrindindi River which runs through the camping area. It is home to many species of flora and fauna including lyre birds, wombats and wallabies and many different types of birds. The Kookaburra's and Currawongs were plentiful around the camp. It certainly is a beautiful area so close and accessible from Melbourne.

Annie and Paul arrived bright and early on the Thursday morning to secure the Blackwood camping area ahead of what we had been warned would be an invasion of campers escaping the city for the Melbourne Cup long weekend. On arrival we were lucky enough to find the camping area uninhabited so we set about placing signs up to hopefully scare off anyone contemplating camping nearby. Unfortunately, later in the day a couple of campers arrived and set up at Blackwood however, we parked our car to stop anyone getting into what we considered a suitable site for about a dozen campers. The only other excitement for the day was a thoughtful camper set up nearby calling around to take all our firewood because he had already burnt all his. A simple "no, this was left for the group" obviously fell on deaf ears so he had to be persuaded that there was plenty of firewood up the road. An hour later he finally decided I had more time to waste than he did so he left.

Thursday evening was quite balmy and Annie and I decided to listen to the river and watch the stars until late into the night before retiring for the night ahead of the anticipated mass arrival of not only our group but half the population of Melbourne.

Friday morning was a glorious morning bathed in beautiful sunshine. We didn't have long to wait before Dave with his new CUB Supamatic LX arrived and began to set up before being joined by his friend, Jane who drove up from the Mornington Peninsula for the weekend. Shortly after Ron arrived with his Goldstream RV in tow and also began to set up camp. Much discussion and several attempts to get the treg hitch disconnected finally saw Ron setting up. Later in the day Bob and Ann with their TVan and Mark with his camp-o-matic arrived and set up.

Rusty, a member from Healesville turned up during the day to see how we were getting along with the set up.

By 5pm we had Robert with his CUB Kamparoo in camp along with Dale and Karen, Em, Nick and Jez in their Dingo.. David, Sue and their little princess Alana arrived along with David and Susan in their Pioneer Bushman and Mick, Sally and Jarrod (who had snuck in under my guard and set up a short distance from the group) .

Already we had 9 campers in by Friday night and I was beginning to become a tad worried about where to fit the other members due to arrive Saturday morning.

Saturday saw Doug, Jeannie and Liam arrive in their Ultimate which gave many of us the opportunity to see how quickly Doug and Jeannie could set up along with Ian and Sandy arriving after taking the short cut from Rawson and only taking around 6 and a half hours to do a 3 hour trip.

By this time the camping area we had managed to keep clear of the other thousand or so Melbournites was becoming pretty full and I was beginning to breakout in a cold sweat wondering where we were going to put any other group members who had indicated they were coming.

Fortunately, the remaining members due to arrive were unable to make it so 12 camper trailers was a perfect number for the area we had allocated.

Friday evening saw the campfire lit and people beginning to gather around for a catch up. Many had bought gourmet dinners with them and the smells were absolutely mind blowing. We had Dave and Jane with their gourmet Indian curry and Ann had prepared Bob a Moroccan dish that convinced me he is absolutely spoilt.

Not long after settling around the camp fire we suffered our only minor disaster for the entire weekend when it began to rain. Well, it is Victoria and it hadn't rained for a few days before the camp so it was due. Sadly it rained throughout the evening so we would have to wait until Saturday evening for everyone to gather once more around the campfire. This did not deter several of our enthusiastic campers who talked and drank well into the next morning (right beside my camper mind you) before retiring for the night at around 1.30am. David, Dale and Doug all fell asleep beside the campfire until they were awoken by some Melbournites camped nearby who had an obvious addiction for loud music and huge campfires which finally stopped around 3am.

Saturday began with a clear sunny sky and movement became evident around 8am with Ron firing up the campfire. Most of the morning was taken up with friendly banter around the campfire and shortly after lunch the Treasure Hunt was set in motion.

The younger brigade took off to solve the clues and find the numerous signs posted around the camping area.

Winners of the treasure hunt were: 1st Jarrod who won himself a new head lamp and 2nd Jeremy who won a double jaffle iron.

Well done to both Jarrod and Jeremy who correctly completed the treasure hunt in 23 and 25 minutes respectively which was a pretty quick time. Had the ranger not told me that stapling labels to trees was taboo it would have taken you a lot longer.

Saturday night saw a "gadget" competition around the campfire with some pretty interesting gadgets shown and discussed.

David gave a talk about his nifty little camper latch closer which he had fashioned out of an old morris minor gear stick. It made light work of closing the camper latches when trying to close the hard floor on the camper trailer.

Mark bought along his homemade camp oven/ fireplace and gave us a talk about how he made it and what he could do with it. Next we heard from Dave who had a nifty little bottle opener gadget which could be taken with you anywhere and used. This would have been particularly handy when you had one of those stubbies with the twist top that refuses to twist.

We next heard from Doug who had recently purchased a 'barby' chainsaw. It was so small I'm sure it will provide years of invaluable service to Doug and Jeannie when Doug is off gathering kindling for the campfire.

Next we heard from Bob who had an ingenious gadget he had picked up I think from Bunnings for the princely sum of 48 cents. Bob's Bucket. Bob gave an extremely humorous adaptation of the many and varied uses for his gadget many of which I will not go into but I can say he had everyone eagerly hanging on every use he had for his clever (albeit not unique) little 9 litre gadget.

Finally we heard about Jeannie's new gadget which was a colourful, illuminated cocktail glass that changed colours continuously and came in handy when sipping on daiquiris.

Following a vote from all campfire participants the prize finally went to Jeannie for her unique illuminated glass which won her a camping cup set for her troubles.


sunday

We awoke to a magnificent morning to the sounds of the birds and the river trickling over the rocks. Nothing was planned for today except plenty of relaxation and campfire chatter.

Some took advantage and went on one of the many walks in the reserve whilst others just sat and relaxed all day. Sunday night everyone again met up at the campfire and it was agreed that we would take the trip up to Cheviot Bridge which is about 30km from Murrindindi. Cheviot Tunnel is an 1880's railway tunnel constructed through a hill and can be driven through. We had about 8 cars on the trip and most finished up in Yea later in the afternoon for some ice cream and window shopping.


monday

We again woke to a beautiful morning of sunshine and this would have been the best day we enjoyed at Murrindindi.

After a morning of relaxation we took off under the expert guidance of Ron to visit the Cheviot Railway Tunnel.

Following a 30km drive we all arrived safely at our destination and walked through the tunnel to the other end. I think it's about 210 metres in all. We then jumped in our cars and drove through the tunnel and onto Yea where we enjoyed a walk around the town. Had a stretch and then journeyed back to Murrindindi for an afternoon cuppa and fireside chat.

Monday night saw us all sitting around the campfire once again talking about travels and campers and all sorts of stuff.

It was an early to bed night for many as the pack up was to begin Tuesday morning when many would head off back to civilisation.


tuesday

This morning several campers began to pack up their campers and by lunchtime many had started their journey back to Melbourne. Only 4 campers remained and Doug and Jeannie along with Dave and Sue were heading back home during the afternoon.

Only Rob, Paul and Annie remained Tuesday night and we all enjoyed the peace and tranquillity of the area as most people had left the reserve by dinner time. We enjoyed a lovely dinner cooked in the Coleman Folding oven and sat around the campfire until around 11pm when it was off to bed and a good night sleep.


wednesday

Saw another glorious day however, Rob had to get back to Churchill in Gippsland and Annie and Paul were left to enjoy lunch and an afternoon pack up before leaving Murrindindi around 4pm.


highlights of the meet

Being able to fit everyone in.
Plenty of laughs around the campfire listening to Bob's gadget talk.
Treasure hunt. Winners Jarrod and Jeremy.
Enjoying great company under some beautiful Victorian sunshine. Well, most of the time.
My freshly baked scones done in the Coleman Folding Oven (sorry guys, most of you had left by the time I got around to baking them).
Meeting new and old friends over a cuppa at the campfire.
Our trip off to Cheviot Tunnel.
Camper walkabout and learning some new tricks.

On behalf of Annie and myself I would like to thank the group and everyone that attended the Murrindindi long weekend for giving us the opportunity to host the gathering. We hope that everyone enjoyed their time at Murrindindi and the activities arranged.

We really do appreciate the warmth and friendliness from all members who attended the gathering. It made hosting an easy job.
Paul & Annie McDougall


| | | | |
| --- | --- | --- | --- |
| | | | |
| | | | |
| | | | |
| | | | |
| | | | |
| | | | |
Robert's Photobucket photos>>>>>