my kitchen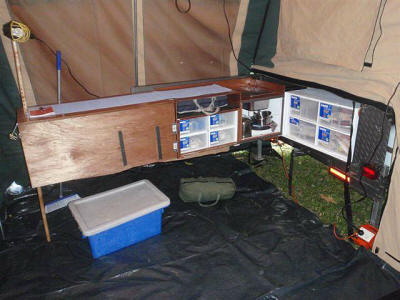 After many looks at the kitchens on this site I made my own. I used 15 mm and 7 mm marine ply and painted it with marine varnish which increased the cost but will hopefully last a lot longer also. It is simply a box with a hinged top and front, partitioned in the middle to suit my gas stove and the boxes I used for storage beneath. I have not included any dimensions as they will differ for each setup. I bought a small sink off e-bay and inserted it on the other side and sealed this wet section with silicone. I chose not to permanently plumb the water, drain and gas connections and after travelling and living in the trailer for the past 9 weeks it has not proved to be a problem, it just adds 5 minutes to the setup.

The front door holds everything in while travelling and serves no other purpose. The top folds out to double the bench space and I used a broom handle and an R clip to provide the support with holes drilled at intervals to allow for uneven terrain, it also serves as a light holder. I also cut another lid the same size as the stove space and this sits above the stove, again increasing the bench space, which I store under the stove when travelling.

I put some slides under the box so that its weight is fully supported when travelling and mounted the kitchen onto the tailgate. I beefed it up by using two angled steel brackets bolted to the outside of the box and then to the tailgate.

For a pantry I made another box to suit four larger boxes. All of the boxes are Oates stackable drawers which appear a little sturdier the others on offer and can be replaced if needed. I used dowels to lock the drawers closed which are pinned with R clips and have never opened in our trip. I pull the pantry forward after opening the tailgate and it gives us plenty of storage with easy access.

I hope this helps with ideas if you are planning to build your own. I found the project very rewarding and ended with a kitchen that is very functional and easy to use.


thanks to Andrew Ebb for sharing this idea
november 2009