nsw
myall river camp weekend
Saturday 19th to Sunday 20th January, 2019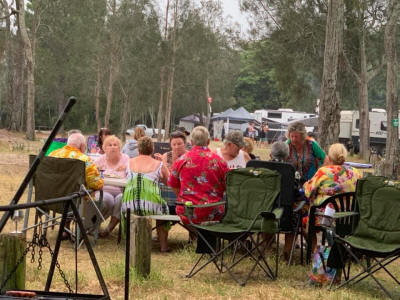 CamperTrailers beach theme bbq tea
The 2019 River Camp on the Myall River has just been completed. 26 Couples attended the camp with several arriving a week before and also some staying on to the Wednesday after.

Weather throughout was pretty good with many members using the river to cool off or just make it another place to have a drink. A change in park ownership saw new caretakers in Vince and Cheryl being in control of the grounds and also attending the Saturday afternoon drinks and Saturday evening dinner. They were very amenable to us as a group and I am sure that anyone calling in during the year and mentioning that they were part of the CamperTrailers Group will be well looked after. Thanks to them we were also able to use a river frontage block for our Saturday afternoon get together which set the scene for a great evening. Thanks to all the ladies for providing excellent side salads for the main meal and those cooks who slaved over a hot fire for the main dinner.

During the week members participated in many activities including golf, aqua aerobics, Nelson Bay cruises, and fishing the beach or river. Dave Cook kept his excellent record of releasing his entire catch before any member could sight it.

It was pleasing to see newcomers Belinda and Tom Latimer and Mick and Louise Perkins attend together with several couples making their second appearance at a CamperTrailers meet. All seemed to enjoy the meeting and I am sure we will see them again in the future.

Several new Hybrids made an appearance for their first time and thanks to their proud owners for allowing an inspection. These are invaluable when someone is considering an upgrade in the near future.

Thank you all for your attendance, friendships only seem to get better after each of our Australian CamperTrailers weekend get togethers.
photos from Geoff & Lee